Skip to content
Skip to navigation menu
IAMS for Vitality Small/Medium Breed Puppy Food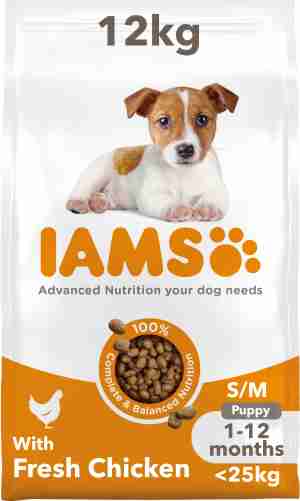 Rollover image to zoom
Product details
Iams ProActive Health Puppy & Junior Small and Medium Breed is recommend for small and medium breed puppies (adult weight 2.5 – 25kg) from 1-12 months old. With a tailored fibre blend including Prebiotics and beet pulp for healthy digestion.

Key Benefits:
Cognitive: Omega 3 DHA for smart, trainable puppies

Strong Muscles: Helps build strong firm muscles with protein sourced from chicken

Strong Immune System: Enriched with antioxidants to help develop a strong immune system

Healthy Skin and Shiny Coat: Omega 6 for healthy skin and shiny coat

Strong Bones: With essential minerals to help build strong bones

Healthy Heart: Nourishes the heart with 7 essential nutrients
Ingredients
Iams Puppy & Junior Small/Medium Breed Dog Food Rich in Chicken
Ingredients


Dried Chicken and Turkey (>28%), maize, wheat, animal fat, dried beet pulp, sorghum, chicken digest, fish oil, dried whole egg, brewer's dried yeast, potassium chloride, sodium chloride, fructooligosaccharides (0.15%)
Analysis
Protein 28%, Fat content 17%, crude ash 7%, crude fibres 2.5%, moisture 8%, Calcium 1.2%, Phosphorus 1.0%, DHA 0.1% Vitamin A 14,000 IU/kg, Vitamin D3 900 IU/kg, Vitamin E (ά-tocopherol) 140mg/kg. Additives:
Vitamins: Vitamin A:14000 IU/kg, Vitamin D3:900 IU/kg, Vitamin E (α-tocopherol):140
mg/kg, Trace elements: Iron as Ferrous Sulphate, heptahydrate:223 mg/kg, Zinc as Zinc
Oxide:186 mg/kg, Manganese as Manganous Oxide:25 mg/kg, Manganese as Manganous
Sulphate, monohydrate:18 mg/kg, Copper as Cupric Sulphate, pentahydrate:14 mg/kg, Iodine as Potassium Iodide:3 mg/kg, Cobalt as Basic Cobaltous Carbonate, monohydrate:0.5 mg/kg
Dosage
Iams Puppy & Junior Small/Medium Breed Dog Food Rich in Chicken
Always have plenty of fresh water available for your dog to drink.
Feeding Guide
Grams per day
Body Weight/age
0.5kg 1-3mths 65g
1kg 1-3mths 100g
2kg 1-3mths 160g
2kg 3-4 mths 150g
4kg 1-3 mths 250g
4kg 3-4 mths 235g
4kg 5-7mths 150g
4kg 8-12mths 80g
6kg 1-3 mths 330g
6kg 3-4 mths 310g
6kg 5-7 mths 200g
6kg 8-12 mths 105g
8kg 3-4 mths 375g
8kg 5-7 mths 240g
8kg 8-12 mths 130g
10kg 3-4mths 435g
10kg 5-7 mths 280g
10kg 8-12mths 150g
15kg 3-4 mths 570g
15kg 5-7mths 365g
15kg 8-12mths 195g
20kg 5-7mths 445g
20kg 8-12mths 235g
25kg* 1-12 mths 275g
* For puppies with an adult weight of over 25kg we recommend Iams Puppy Large Breed.
It is important to remember however that these figures are guidelines only, and there are several factors to be taken into account when assessing your pet's nutritional requirements : -
Activity level
Temperament (stressed animals burn off more calories than relaxed ones)
Metabolism (every animal is an individual with his or her own speed of metabolism; this means that 2 dogs of the same age, breed and weight could have different daily calorie requirements)
In order to provide the correct portions when feeding your dog or cat, it is also helpful to assess your pet's appetite, visual appearance and stools. Whilst poo watching does not sound particularly pleasant, it is one of the best indicators of health. Increased frequency of passing faeces, production of large quantities of stools of loose motions are often frequent signs that an animal is receiving more food than he or she requires.
It is important to obtain an accurate weight for your cat or dog, and also to weigh out the food. Guessing on both accounts gives a large margin of error.
Changing Food Brands
For a successful diet change, we recommend following the feeding pattern below. The daily feeding amount should be split into two equal amounts and the proportions of new food increased over the first week as illustrated.

TOP TIPS: For those dogs who do not make eating a priority, here are some additional points:
- Reduce the number of tit-bits given during the introductory period
- If your dog has been used to eating wet food, moisten with warm water.
DAY 1-2

75% Original Diet
25% New Food
DAY 3-4

50% Original Diet
50% New Food
DAY 5-6

25% Original Diet
75% New Food
Customer reviews
Product reviews are filtered by language.
The following reviews are available in English.
Iams Puppy Food

Our Two Sprocker Spaniels love this food and it doesn't upset their tummies! Good Value for Money but allow at least a week for delivery because dispatch takes 48hrs during the week - no dispatches over the weekend.

Iams puppy food

My puppy loves this food, excellent value and quick delivery

Puppy Food

Iam's Puppy and Junior food

Puppy food

IAMS puppy and junior food

puppy iams

I am so pleased with this food for my pups they look healthy and energetic.I no this is decent food as i have used iams on my other dogs.excellent delivery.