Skip to content
Skip to navigation menu
ADVANCE Hairball Turkey & Rice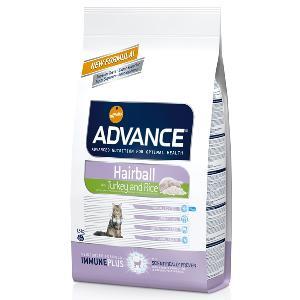 Product details
Advance Feline

Advance Adult Cat Hairball

This product is recommended for cats that spend most of their lives indoors..

Features & Benefits

Active immunoglobulins
Natural proteins that help maintain intestinal health.

High protein protection
Provides the optimum level of proteins to help improve the immune response and develop the appropriate musculature.

Natural polyphenols
Help delay cellular aging together with vitamins.

Oat fiber
Helps prevent the formation of hairballs.

Neutral pH
The balanced combination of minerals and other ingredients facilitates proper urinary tract function, thanks to an optimum urine pH.

Pyrophosphates
Special minerals that help prevent the formation of tartar and promote fresh breath.