Skip to content
Skip to navigation menu
Adaptil Calm Collar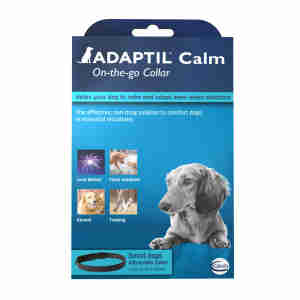 Rollover image to zoom
Product details
The Adaptil Collar uses your dog's body heat to release a reassuring pheromone wherever your dog goes. It helps to relax your dog in situations that cause them stress.
How it works
Adaptil is a synthetic copy of the dog appeasing pheromone that is naturally released by a mother dog to comfort and reassure her new puppies. This pheromone has been shown to have the same comforting effect on dogs when they are faced with a stressful situation.
Key benefits:
creates a pleasant environment
reduces stress
can be left on continuously (except when shampooing)
improves behaviour
non-sedative and non-systemic so it can be used alongside other types of medications
scientifically proven
used by vets and pet owners worldwide for 14 years
provides 4 weeks of constant support
When to use it
If your dog is scared of loud noises, has issues with kennels (i.e barking and whining), shows signs of fear when on a walk or has issues with training, Adaptil can help to comfort your four-legged friend. It is recommended that the Adaptil collar is kept on for at least a month and normally results are seen within 7 days of wearing the collar.
Size Guide
Fit the collar so that there is enough room to fit two fingers underneath. Once you have fitted it, cut to size.
Small/medium puppy, fits neck size up to 37.5cm
Medium/large adult, fits neck size up to 62.5cm
Customer reviews
Product reviews are filtered by language.
The following reviews are available in English.
adaptil collar

dog is a lot calmer when meeting other dogs

Collar

Kicks in after about 3days puppy a lot calmer

Adaptil collar

I looked after a 14 years old dog while his owners were on holiday. He was very nervous when he arrived in my home and would cry as soon as he did not see me. I had to sleep the first night on the sofa in the same room than him to stop him crying. I had bought a collar for my dog when I left him with friends - just in case he got nervous - and they did not need it. I put it on the old dog and it really helped. He relaxed in no time and stopped whining. In no time he was transformed from a nervous dog to a very happy one.

Adaptil collar

We certainly noticed a calming influence in our nervy rescue lurcher especially will visitors to the house. She also wore it during our holiday to France which I am sure helped to keep her calmer.

Very impressed

My seven month old Pom can get anxious and sick when travelling. Mentioned this to my vet who recommended these collars so I bought one. Couldn't believe as since she has worn it she seems happier and calmer in the car and best of all she hasn't shown any sign of sickness. Great result!!!