Skip to content
Skip to navigation menu
Advance French Bulldog Food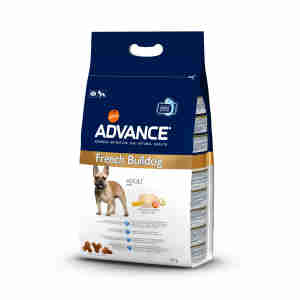 Rollover image to zoom
Product details
Advance French Bulldog is a high-quality food that has been specially formulated to meet the nutritional needs of French Bulldogs after their first year..
How it works
This complete dry food includes specific functional ingredients along with moderate level of calories helping to improve digestion with fewer odours and promote optimum weight. The combined action of collagen, zinc, Omega 3 and 6 fatty acids, plus biotin maintains the skin`s function as a protective barrier. Cartilages and nerve health can benefit from yeast (source of vitamin B). Taurine is beneficial to the heart health and antioxidants improve the respiratory function. This kiblle contains proteins such as potato, yeast and immunoglobulins which are easy-to-digest and helps the stomach`s health.
Key Benefits:
Contains essential ingredients to help reduce the calories and improve the digestion
Maintain the digestion and limits skin problems
Promotes cartilage and vertebral nerve health.
Taurine - Amino acid that promotes proper heart function.
Source of fiber which regulates bowel function
Promotes the proper functioning of the respiratory system.
When to use it
After their first year, French bulldogs might develop certain diseases of digestive and respirtatory systems.Because they are braquicefaleos, which means that the shape of the head is large in relation to the rest of their body, makes it difficult the passage of air into their lungs. It is important to give them a little bit of care. Advance French Bulldog recipe contributes to maintain good function of digestive, respiratory and skin, improving the general condition of your dog.
Ingredients
Ingredients:
Maize (21%), Duck (18%), Rice (15%), Maize gluten, Dehydrated duck proteins, Barley, Hydrolysed animal proteins, Potato protein, Animal fat hydrolysed, Collagen, Fish oil, Yeast, Beetroot pulp, Calcium Carbonate, Vegetable fiber, Potassium chloride, Plasma protein, Soya oil, Tetrasodium diphosphate, Salt, Dehydrated apple (0.1%), Dehydrated grapefruit (0.02%).
Nutritional additives:
Vitamin A 27000 IU, Vitamin D3 1800 IU, Vitamin E 1000 mg, Vitamin C (Ascorbyl monophosphate calcium sodium salt) 500 mg, Biotin 0.27 mg, Taurine 1680 mg, Ferrous sulfate monohydrate 260 mg (Fe: 86 mg), Potassium iodide 1.88 mg (I: 1.44 mg), Copper(II) sulfate pentahydrate 33.5 mg (Cu: 9 mg), Manganese sulfate monohydrate 124 mg (Mn: 40 mg), Zinc sulfate monohydrate 635 mg (Zn: 231 mg), Sodium selenite 0.24 mg (Se: 0.11 mg), with antioxidants.
Analytical constituents:
Protein 24.0%, Fat content 17.5%, Gross fiber 2.0%, Inorganic matter 6.0 %, Calcium 1.2 %, Phosphorus 0.9 %, Humidity 9.0%.
Feeding Guide
Recommended quantity (grams/day):
Adult weight

7-9 kg

10-12 kg

13-15 kg

Grams per day

Low activity

115-135 g

150-170 g

180-200 g

Moderate activity

145-170 g

190-215 g

225-250 g

Intense activity

175-205 g

225-255 g

270-300 g