Skip to content
Skip to navigation menu
Advance German Shepherd Food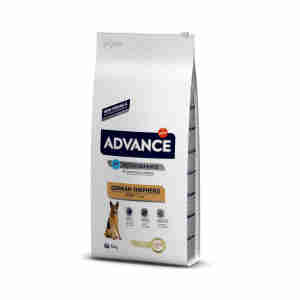 Rollover image to zoom
Product details
Advance German Shepherd Food has been specially formulated to satisfy the nutritional needs of German Shepherds after their first two years.
How it works
This specifically designed kibble re-establishes health and intestinal balance and promotes optimum digestion. Made up with turkey and rice as main ingredients which are excellent sources of proteins and carbohydrates, this recipe from Advance keeps your dog well-nourished. The blend of coconut oil and immunoglobulins maintains the intestinal health. Skin and coat can benefit from biotin, zinc, essential Omega 3 and 6 fatty acids. Thanks to its green tea content, the formula provides fresh breath and prevents the formation of tartar.
Features & Benefits:
With turkey and rice for optimum nutrition
Promotes digestive function and help maintain optimum intestinal health
Can help to prevent the onset of joint problems
Contains biotin, zinc and essential fatty acids to keep healthy skin and a shiny coat
Green tea prevents the formation of tartar and promote fresh breath
Specially designed food for German Shephard breed
When to use it
Advance innovative formula gives all the vitamins and essential ingredients to satisfy the nutritional needs of German Shephard after their first two years. It is important to maintain good digestion and pay attention to the breed-specific diet. German Shephards are agile and like to be active. This formula helps to balance the digestive function, thanks to its easy-to-digest proteins which make the absorbtion easier.
Ingredients
Ingredients:
Rice (22%), Maize, Dehydrated poultry protein, Turkey (11%), Maize gluten, Chicken hydrolysed animal protein, Coconut oil, Beetroot pulp yeast potassium chloride fish oil plasma proteins tetrasodium diphosphate fructooligosaccharides glucosamine chondroitin sulfate citrus extract rich in bioflavonoids green tea (0.013%) natural polyphenols.
Nutritional additives:
Vitamin A 27000 IU, Vitamin D3 1800 IU, Vitamin E 670 mg, Vitamin C (Ascorbyl monophosphate calcium sodium salt) 500 mg, Taurine 1200 mg, Ferrous sulfate monohydrate 260 mg (Fe: 85 mg), Potassium iodide 1.9 mg (I: 1.4 mg), Copper(II) sulfate pentahydrate 34 mg (Cu: 8.8 mg), Manganese sulfate monohydrate 124 mg (Mn: 40mg), Zinc sulfate monohydrate 395 mg (Zn: 144 mg), Sodium selenite 0.24 mg (Se: 0.11 mg), With antioxidants.
Analytical constituents:
Protein 26.0%, Fat content 13.0%, Gross fiber 1.7%, Inorganic matter 6.0%, Calcium 1.2%, Phosphorus 1.0%, Humidity 9.0%.
Feeding Guide
Recommended quantity (grams/day):
Adult weight (kg)
20
25
30
35
40
45
Grams per day
Low activity
240
285
325
365
400
440
Medium activity
355
405
455
Intense activity
430
490
550