Skip to content
Skip to navigation menu
Advance Maxi Light Dog Food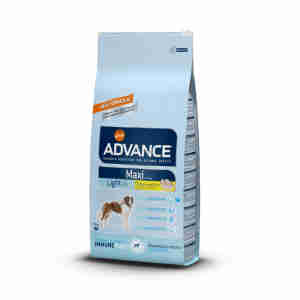 Rollover image to zoom
Product details
Advance Maxi Light Dog Food is a premium food specially formulated for large breed dogs, with an adult weight over 30kg that are overweight or susceptible to obesity.
How it works
This Advance large kibble is adapted to the jaws and teeth of large breed dogs. Made with hight content of fiber and proteins, such as wheat and maize, combined with low-calorie ingredients it helps to maintain the optimal weight of the dog without losing muscle mass. L-carnitine content transforms fat into energy, promoting the reduction of the dog`s fat deposits. Mixed minerals such as pyrophosphates prevent the formation of plaque and reduce the unpleasant odor. Digestion and intestinal health can benefit from active immunoglobulins which are natural proteins.
Key Benefits:
Premium dog food with active immunoglobulins - Natural proteins that help maintain intestinal health.
Natural Polyphenols- Help delay cellular aging together with vitamins.
L-Carnitine promotes the reduction of the dog's fat deposits.
High in protein, low in calories for weight control or weight loss without losing muscle mass.
Contains special minerals that prevent the formation of tartar and promote fresh breath.
When to use it
Advance Maxi Light Dog Food for large breeds is an optimal diet for adult dogs weighing more than 30 kg. Weight gain can happen gradually, and because your dog is already large, it is hard to notice. Give your dog a little bit of care and change the diet if necessary and always check with the veterinarian.
Feeding a diet formulated for large dogs and monitoring your dog`s weight are the easiest steps you can take care to avoid any arising problems.
Ingredients
Ingredients: Chicken (15%), Wheat rice (12%), Maize, dehydrated poultry proteins, Maize gluten, Hydrolysed animal proteins, Maize bran, Beetroot pulp, Dehydrated pork proteins, Animal fat, Yeast, Fish oil, Calcium carbonate, Potassium chloride, Plasma proteins, Vegetable fiber, Tetrasodium diphosphate, Tricalcium phosphate, Glucosamine chondroitin, Sulfate natural polyphenols.
Nutritional additives:
Vitamin A 30000 IU, Vitamin D3 2000 IU, Vitamin E 687 mg, Vitamin C (Ascorbyl monophosphate calcium sodium salt) 500 mg, Taurine 1200 mg, L-Carnitine 250 mg, Ferrous sulfate monohydrate 260 mg (Fe: 85 mg), Potassium iodide 1.9 mg (I: 1.4 mg), Copper(II) sulfate pentahydrate 34 mg (Cu: 8.8 mg), Manganese sulfate monohydrate 124 mg (Mn: 40mg), Zinc sulfate monohydrate 395 mg (Zn: 144 mg), Sodium selenite 0.24 mg (Se: 0.11 mg), With antioxidants.
Analytical constituents:
Protein 28.0, % Fat content 10.0 %, Gross fiber 3.5%, Inorganic matter 6.0 %, Calcium 1.1 %, Phosphorus 0.85%, Humidity 9.0%.
Feeding Guide
Recommended quantity (grams/day):
Adult weight (kg)
30
40
50
60
70
Grams per day
Maintenance
360
445
530
605
680
Overweight (20% reduction)
300
370
440
500
565
Customer reviews
We're sorry but there are no reviews of this product in English.