Skip to content
Skip to navigation menu
Advance Veterinary Diets Leishmaniasis Dog Food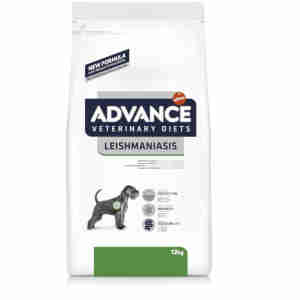 Rollover image to zoom
Product details
If your dog suffers with leishmaniasis, Advance Veterinary Diets Leishmaniasis Dog Food can manage their symptoms, boosting kidney health and helping to fight off infections.
What it's for
This food has been specially designed to combat the unpleasant symptoms of the parasite infection, leishmaniasis. It should be used in conjunction with treatment prescribed by your vet for the best possible results. It's recommended that you keep your dog's environment stress-free while you tackle their symptoms, and make sure that they eat well and often.
Keep a close eye on your pet if they start to suffer from a skin flare-up or digestive issues, as you want to keep them as comfortable as possible. If you're concerned, contact your vet right away.
Key benefits
Specially designed for dogs with leishmaniasis
High protein content supports kidney function
Omega-3 and -6 ease skin inflammation
Extra vitamin C improves natural defences
Boosts blood cell immunity to avoid illnesses
How it works
This dry food is specially formulated to help dogs with leishmaniasis combat their symptoms. Packed full of proteins for energy, it supports your dog's muscles and immune system. Essential fatty acids omega-3 and -6 reduce inflammation, helping damaged skin to recover quickly, while vitamin C supports healthy eyesight. It boosts kidney function and cell immunity against further infections, as well as preventing xanthine stones from forming in the urinary tract, which is a possible side effect of treatment.
Made with plenty of fibre, it's easy to digest, so it doesn't trigger dogs with gastrointestinal disorders. When transitioning from one brand of food to another, introduce it gradually to avoid an upset tummy and make sure your pet always has fresh drinking water available.
<
Ingredients
Composition:
Rice, wheat flour, wheat maize ,dehydrated egg, animal fat, soya flour, maize gluten flour, hydrolyzed soya protein, hydrolyzed animal proteins, beetroot pulp, serum coconut oil, calcium carbonate, plasma proteins, fish oil, sodium caseinate, monocalcium phosphate, potassium chloride, maize flour.
Nutritional additives:
Vitamin A 18000 - 19565, Vitamin D3 1400 - 1522, Vitamin E 900 - 978, Vitamin C 250 - 272, Vitamin B1 Thiamine (ppm) 52 - 57, Vitamin B2 Riboflavin (ppm) 25 - 27, Vitamin B6 Pyridoxine (ppm) 15 - 16, Vitamin B12 Cyanocobalamin (ppb) 83 - 90, Niacin (ppm) 195 - 212, Pantothenic Acid (ppm) 50 - 54, Folic Acid (ppm) 6.5 - 7.1, Biotin (ppm) 0.36 - 0.4, Choline (ppm) 2100 - 2283, Iron (ppm) 300 - 326, Manganese (ppm) 71 - 77, Iodine (ppm) 2.1 - 2.3, Copper (ppm) 19 - 20.7, Zinc (ppm) 223 - 242, Selenium (ppm) 0.45 - 0.5, Arginine (%) 1.4 - 1.5, Linoleic Acid (%) 2.2 - 2.4, Total Omega 6 2.2 - 2.4, Total Omega 3 0.32 - 0.3, Omega 6: Omega 3 6.8 - 7.4, Metabolizable energy (kcal/kg) 3780.
Analytical constituents:
Protein 24%, Fat content 16%, Gross cellulose2 2%, Inorganic matter 6%, Humidity 9%, Calcium 0.8%, Phosphorus 0.6%, Sodium 0.25%, Potassium 0.82%, Magnesium 0.11%, Chloride 0.6%.
Feeding Guide
Recommended quantity/day:
| | | | |
| --- | --- | --- | --- |
| Breed | Body weight | Ideal weight | Weight below the ideal |
| Small breeds | 5-10 kg | 75-125 g | 90-150 g |
| Medium breeds | 15-20 kg | 160-200 g | 190-240 g |
| - | 20-25 kg | 230-265 g | 275-320 g |
| Large breeds | 30-40 kg | 295-320 g | 355-385 g |
| Giant breeds | 45-50 kg | 350-375 g | 785-515 g |
| - | 55-60 kg | 405-430 g | 485-515 g |
| - | 65-70 kg | 455-475 g | 545-570 g |
Always make sure your furry friend has access to plenty of water.
Customer reviews
Product reviews are filtered by language.
The following reviews are available in English.
Satisfied pet and customer

Very pleased with this food for my little Spanish rescue dog with Leish. Her coat shines and she is happy with life. Most importantly she enjoys her dinner.

Arrived quickly. Happy with purchase

Good product. My leish dog loves these biscuits. The kibble is suited to a medium to large dog, or a smaller dog able to chew as the kibble size is not suited to small dogs. They should make a second smaller version.

Great food

Sadly my 2 year old Cyprus rescue dog has recently been dygnosed with Leish Obviously we're testing him but I honestly think this food is helping too His coat and feet aren't as dry and most importantly his poop is 'normal' He seems to go less too than when he was in a wet compressed food thinking initially he'd developed an allergy to his other dry food. I will Certainly continue to feed him this food.

great product and Medicanimal is a great company to buy from

I have used this food for my boxer dog since she was first diagagnosed with Leish 3 years ago I am convinced it is helping to keep any symtons and flare up at bay an excellent product

My dog loves this!

Phoebe is a Greek rescue with leish. I was searching the net for low purine food, when I found the Medicanimal website, with the diet food I needed for her. The free delivery was speedy, and the loyalty credit makes such a difference to the price, and well worth ordering again. Phoebe absolutely loves this food, she was actually drooling when I opened it on arrival. To stop her getting bored I mix it with a raw egg, or a little zero fat Greek yoghurt; which helps the tablets for leish go down nicely, or white fish. I also love the zip close bag, which keeps the food fresh. An all round winner for us.