Skip to content
Skip to navigation menu
Advance Veterinary Diets Obesity Cat Food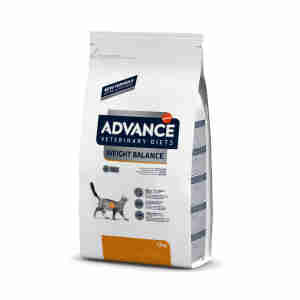 Rollover image to zoom
Product details
Advance Veterinary Diets Obesity Cat Food is a dietetic complete dry food specifically formulated to help reduce fat in adult cats with weight issues or suffering from diabetis or hyperlipidemia

How it works
The products of the Advance Veterinary Diets range were designed with special ingredients to meet the needs of different diseases. This kibble helps increase the energy, thanks to its high fiber and protein content which provides a sensation of satiety, preventing loss of muscle mass. Barley and whole grains from maize and wheat boost fat burn improving the metabolism. Low calorie content promotes healthy weight loss, which means that you don`t have to reduce the amount of food. The mixture of supplements with essential Omega 3 and 6 fatty acids reduce the inflamation, joint pain and maintain skin and hair protective function. Olive oil content helps minimise the oxidative stress (a process caused by free radicals like an apple turns brown when exposed to air).

Key Benefits:
Contains low calorie level to promote healthy weight loss
High protein content maintains muscle mass, increase energy expenditure and improve insulin sensitivity
High fiber content provides a satiating effect and dilutes the level of energy in the diet
With barley and whole grains to improve insulin sensitivity and the metabolism of glucose
Citrus fruit flavonoids: grapefruit and orange extracts- Help lower oxidative stress, inflammation, cholesterol and triglycerides in blood
Rich in olive oil helps reduce oxidative stress and help improve the symptoms of the metabolic syndrome
Supplements with essential Omega 3 fatty acids: fish oil- Aid in the reduction of inflammation, joint pain and the risk of hepatic lipidosis.
Essential Omega 6 Fatty acids, zinc and biotin - Helps restore and maintain the skin, hair and their protective barrier function.
When to use it
Advance recommends this formula for the following conditions:
Overweight and obesity
Diabetes Mellitus in overweight cats
Fiber-responsive colitis
Constipation
Contraindications
Health issues associated with catabolic conditions.
Because veterinary diets are formulated for the nutritional support of pets with specific clinical conditions, we recommend that you only use them under professional advice. Please consult your veterinary surgeon.
Ingredients
Ingredients:
Maize gluten, dehydrated poultry protein, maize dehydrated, pork protein, barley pea fiber, hydrolyzed animal protein, wheat gluten, potato protein, wheat vegetable fiber, beetroot pulp, animal fat, soya flour, sodium caseinate, fish oil, potassium chloride, dehydrated egg, calcium carbonate, olive oil, salt.
Nutritional additives:
Vitamin A (IU/kg) 18000 19565, Vitamin D3 (IU/kg) 1400 1522, Vitamin E (α-tocopherol) (ppm) 460 500, Vitamin B1 Thiamine (ppm) 51 55, Vitamin B2 Riboflavin (ppm) 25 27, Vitamin B6 Pyridoxine (ppm) 14 15, Vitamin B12 Cyanocobalamin (ppb) 117 127, Niacin (ppm) 201 218, Pantothenic acid (ppm) 48 52, Folic Acid (ppm) 6.3 6.8, Biotin (ppm) 0.35 0.38, Choline (ppm) 3000 3261, L-carnitine (ppm) 500 543, Taurine (%) 0.30 0.33, Iron (ppm) 260 283, Manganese (ppm) 61 66, Iodine (ppm) 2 2.2, Copper (ppm) 17 18, Zinc (ppm) 250 272, Selenium (ppm) 0.5 0.54, Essential Fatty Acids 2.00 2.17, Total Omega 3 0.3 0.33, Total Omega 6 1.7 1.8, Omega 6: Omega 3 5.6 6.1, Omega 6: Omega 3 9 10, Metabolizable energy 3172.
Analytical constituents:
Protein 40%, Fat content 10%, Gross cellulose 9%, Inorganic matter 7%, Humidity 8%, Calcium 1.2 %, Phosphorus 0.9 %, Sodium 0.32%, Potassium 0.9%, Magnesium 0.10%, Chloride 0.87%.
Feeding Guide
Recommended quantity/day:
Weight

Maintenance/

Hyperlipidemia

Weight Loss

2 kg

55 g

40 g

3 kg

65 g

50 g

4 kg

70 g

55 g

5 kg

80 g

60 g

6 kg

85 g

65 g

7 kg

90 g

70 g

8 kg

95 g

72 g

9 kg

100 g

75 g

10 kg

105 g

80 g
Always make sure your furry friend has access to plenty of water.
For every 500 g of supplemental body weight, add an additional 26 kcal.
Customer reviews
Product reviews are filtered by language.
The following reviews are available in English.
general

Always brilliant on price, contact, speedy delivery and customer service

ADVANCE Veterinary Diets Obesity Feline

I am using it to attempt my cat's weight loss. She certainly enjoys eating it, but as yet there have been no very obvious changes to her weight, even though I only give her 25 grams twice a day. But I suspect she may occasionally have a nibble of my other cat's food!

Cats taste

I got this and other diet kibble. Unfortunately non of my cats will eat it. I suggest getting a sample pack first to see if yours will eat it. Perhaps mine are just too fussy!

Really Works

Advance obesity feline biscuits keep my cats weight down, I've tried other products but this seems to be working where the others have failed.