Skip to content
Skip to navigation menu
Advance Veterinary Diets Urinary Cat Food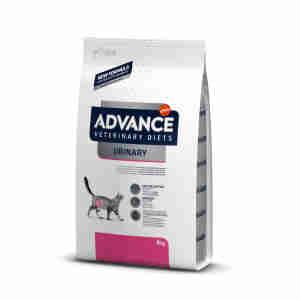 Rollover image to zoom
Product details
Advance Veterinary Diets Urinary Cat Food is a dietetic complete food specially formulated for the prevention and control of disorders associated with urinary tract disease of adult cats
How it works
The Advance Veterinary Diets kibble was designed with special ingredients to help support nutritional needs of adult cats with urinary tract problems. The moderate concentration of acid pH, in combination with sodium chloride and potassium help reduce the formation of struvite crystals, gently dissolving them and increasing the production of urine. Low magnesium level minimises urinary syndrome as well as lower urinary tract of your cat, dissolving struvite stones. This recipe uses phytates and citrate mixture to help eliminate the formation of crystals in the urinary tract. Low calorie content encourages to maitain cat`s weight, as sterilized cats have little physical activity.
Key Benefits:
Optimum level of sodium chloride and potassium which increase the production of urine
Contains moderate acid pH (PH = 6.0-6.3) reducing the formation of struvite stones and crystals.
With phytates and citrate to prevent the formation of crystals in the urinary tract.
Moderate content of magnesium and stone developing minerals Reduction of the precipitation capacity of calcium oxalate and struvite in the urine.
Includes Chondroitin sulfate-glucosamine (GAG) .Helps recovery from GAG (Glucosaminoglycans) deficit in the urinary mucosa
Controlled calorie content maintain weight of sterilized cats.
When to use it
Advance recommends this formula for the following conditions:
Disorders associated with feline urinary tract disease
Prevention and control of relapses of stones made up of struvite and oxalate crystals
Improvement of symptoms associated with the idiopathic cystitis
Contraindications:
Pregnancy. Nursing. Recurrent use of urine acidifiers.
Because veterinary diets are formulated for the nutritional support of pets with specific clinical conditions, we recommend that you only use them under professional advice. Please consult your veterinary surgeon.
"
Ingredients
Ingredients:
Dry food:
Chicken, maize gluten, dehydrated pork proteins, rice wheat, dehydrated poultry proteins, maize, flour maize hydrolyzed animal proteins, animal fat, dehydrated egg, salt, potassium chloride ,fish oil, glucosamine chondroitin sulfate.
Wet food ingredients: Meat and animal by-productswaterfish and fish by-productsgrainsoils and fatsmineral substances.
Acidifying substances in urine: Calcium sulfate and methionine.
Nutritional additives:
Vitamin A 18000 - 19565 - 8400 - 28000, Vitamin D3 1400 - 1522 - 540 - 1800, Vitamin E 220 - 239 - 80 - 266, Vitamin B1 Thiamine (ppm) 53 - 58 , Vitamin B2 Riboflavin (ppm) 25 - 27, Vitamin B6 Pyridoxine (ppm) 16 - 17.4, Vitamin B12 Cyanocobalamin (ppb) 85 - 92, Niacin (ppm) 190 - 207, Pantothenic acid (ppm) 48 - 52, Folic Acid (ppm) 6.5 - 7.1, Biotin (ppm) 0.12 - 0.13, Choline (ppm) 1860 - 2022, Iron (ppm) 132 - 143 , Manganese (ppm) 50 - 54, Iodine (ppm) 1.8 - 2, Copper (ppm) 13 - 14 - 2.6 - 8.66, Zinc (ppm) 177 - 192 , Selenium (ppm) 0.45 - 0.5, Linoleic Acid (%) 2.65 - 2.9, Omega 6: Omega 3 8 - 8.7, Metabolizable energy (kcal/kg) 3800 - 4130 - 1408 - 4693,
Analytical constituents:
Protein 13%, Fat content 14%, Gross cellulose2 2%, Inorganic matter 6%, Humidity 8%, Calcium 0.7%, Phosphorus 0.8 %, Sodium 0.7%, Potassium 0.78%, Magnesium 0.07%, Chloride 0.5%.
Feeding Guide
Recommended quantity/day:
| | | |
| --- | --- | --- |
| Weight | Dry | Wet |
| - | g/day | Cans per day |
| 2-3 kg | 40-55 g | ¾ |
| 3-5 kg | 55-75 g | 1 ½ |
| 5-7 kg 3 | 75-95 g | 2 - 2 ½ |
Always make sure your furry friend has access to plenty of water.
For every 5 kg of supplemental body weight, add an additional 195 kcal, or approximately ¼ of a can.
Customer reviews
Product reviews are filtered by language.
The following reviews are available in English.
Change of food

We normally used Hills urinary tract C/D, but after a number of years our cat went of it. As soon as we changed to the New Advance food his interest and appetite improved.

Excellent variety & prices!

As anyone who has a cat knows they can be such finicky eaters, so I had tried a smaller pack of this food on my 3 cats & they ate with enthusiasm. I now vary their menu with another brand so they don't get bored so easily. Both of which were purchased from medicanimal.com-they offer a wide variety at excellent prices. The website is very easy to navigate which saves me time. The special deals are 2nd to none!

Cats liked

I have 3 cats they loved the taste but one was sick for a few days on it, so mixed it with some other food and all seems to be ok

happy customer

The product arrived the next day and it is an food complement for my cat which has urinary problems. She loves too!

I received a free sample from Pet Supermarket in my order and I will now be stocking up on this! My kitten adored it and I did too as the smell is really quite nice! Excellent food.