Skip to content
Skip to navigation menu
Advance Yorkshire Terrier Adult Dog Food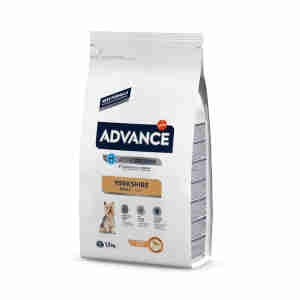 Rollover image to zoom
Product details
Advance Yorkshire Terrier Adult Dog Food is a complete dry food specially formulated to satisfy the nutritional needs of Yorkshire Terriers over 8 months old.
How it works
The Advance Yorkshire Terrier Adult formula was designed with nutrients that nourish their delicate skin and hair, keep their mouth healthy and enhance their intestinal health. Yorkshire Terrier has multi kibble with special shapes that adapt perfectly to this breed's small mouth.
19% chicken and 15% rice as main ingredients with excellent sources of protein and carbohydrates, make this recipe an optimum nutrition for small dogs of this breed. Skin and coat health can benefit from Omega 3 and 6, biotin and zinc. Using an advance protein system, this kibble helps maintain your dog well-nourished while developping strong muscles. Green tea and pyrophosphates prevents from tartar build-up and provides fresh breath.

Key Benefits:

Contains 19% chicken and 15% rice which are excellent sources of protein and carbohydrates that are easily digested and offer optimum nutrition for delicate digestive systems
With boiled ham -delicious flavour even for sophisticated dogs
Immunoglobulines and apple fiber - Natural proteins and fruit fiber that help maintain intestinal health
Green tea and pyrophosphates help prevent the formation of tartar and promote fresh breath
Rich in biotin, zinc, essential Omega 3 and 6 fatty acids for healthy skin and a shiny, silky coat
Provides optimum level of proteins to develop strong muscles and maintain an ideal physical condition
When to use it
Yorkshire terrier dog breed has a single layer of long hair which means that skin is more exposed than other breeds with denser coat and he can develop dermatological issues. Just one light wound can led to a sensitive reaction of their skin. Dogs of Yorkshire terrier breed have small jaw bone and small teeth which need protection. This food has specific ingredients to help maintain skin and hair healthy while providing oral protection and optimum nutrition. Biotin and zinc ingredients play an important role in collagen formation and keratin, as they forme a protective barrier for skin and coat. Boiled ham flavour make this kibble a tasty food, even for the most exigent dogs.
Ingredients
Ingredients:
Chicken (19%), rice (15%), dehydrated poultry proteins, maize, maize gluten, animal fats (stabilized with Vitamin E), hydrolysed animal proteins, wheat, beetroot pulp, fish oil, dehydrated egg, yeast, potassium chloride, inulin, plasma proteins, tetrasodium diphosphate ,monocalcium phosphate, calcium carbonate, salt, dehydrated ham (0.05%), dehydrated apple (0.05%), green tea (0.013%), natural polyphenols.
Nutritional additives:
Vitamin A 27000 IU, Vitamin D3 1800 IU, Vitamin E 670 mg, Vitamin C (Ascorbyl monophosphate calcium sodium salt) 500 mg, Biotin 0.8 mg, Taurine 1200 mg, Ferrous sulfate monohydrate 260 mg (Fe: 86 mg), Potassium iodide 1.9 mg (I: 1.44 mg), Copper(II) sulfate pentahydrate 33.0 mg (Cu: 9 mg), Manganese sulfate monohydrate 125 mg (Mn: 40mg), Zinc sulfate monohydrate 560 mg (Zn: 200 mg), Sodium selenite 0.24 mg (Se: 0.11 mg), With antioxidants.
Analytical constituents:
Protein 28.0%, Fat content 18.0%, Gross fiber 2.0%, Inorganic matter 6.5%, Calcium 1.2 %, Phosphorus 1.0 %, Humidity 9.0%.
Feeding Guide
Recommended quantity/day:
| | |
| --- | --- |
| Adult weight | Grams/day |
| 1 kg | 25 g |
| 3 kg | 55 g |
| 5 kg | 85 g |
Always make sure your furry friend has access to plenty of water.
Customer reviews
We're sorry but there are no reviews of this product in English.