Skip to content
Skip to navigation menu
Advantage 40 for Small (less than 4kg) Cats, Dogs, and Rabbits - 4 pipettes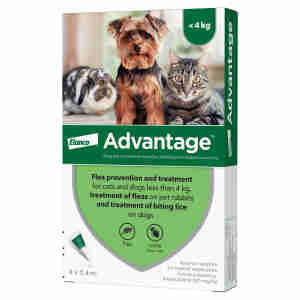 Rollover image to zoom
Product details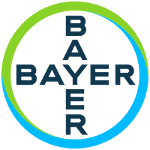 Trusted Supplier
Please be aware that this medicine can only be supplied for a maximum of one year treatment per animal.

Apply Advantage 40 every month to keep your small dog, cat or rabbit flea free.
What it's for
Fleas are a pain (literally) and your pet can pick them up easily when they're out and about playing with their pals. If your furry friend is scratching, biting or licking themselves often, it might be because they're hosting a flea infestation. Fleas fasten themselves to your pet's skin and drink their blood. And they can spread quickly, so the sooner you tackle them the better!
You can check your pet for fleas by combing them with a flea comb. Fleas like warm, dark, moist places, so your pet's armpits are a good place to start. A bowl of soapy water will be useful to drown any fleas, larvae or eggs you find.
Key benefits
kills fleas and prevents new infestations
for dogs, rabbits and cats weighing up to four kilograms, including kittens over eight weeks
kills fleas in 48 hours
kills flea larvae in the home
one treatment per month lasts three to four weeks (one week for rabbits)
four pipettes per package, to keep your pet flea free for four months.
How it works
The medicine comes in a handy pipette, making it super simple to apply. You just need to squeeze half onto the skin at the nape of your pet's neck, and the rest two or three centimetres further back – both places your pet can't reach to lick it off. If your pets are besties who groom each other, try to keep them separate for a while so they don't lick each other's medicine off. Don't worry if you've got a dog who likes swimming though – Advantage stills works if it gets wet. Once you've applied it, just sit back and wait for it to be carried around your pet's body by the oils in their skin.
Before buying a flea treatment, you'll need to check your pet's weight. If they're over four kilograms, use Advantage for Dogs (dogs), or Advantage Large Cats (cats and rabbits).


For cats & rabbits weighing over 4kg please try Advantage 80mg spot on solution for Large Cats and Pet Rabbits.
Please click here for flea accessories
**Now available without prescription for U.K **
Ingredients
Each tube contains 0.4ml (40mg imidacloprid). The product also contains benzyl alcohol and butylhydroxytoluene (E321) as an antioxidant.
Warnings
Do not treat unweaned puppies or kittens of less than 8 weeks of age.
Do not use on pet rabbits of less than 10 weeks of age.
Do not use in animals that are known to be hypersensitive to the active substance or any of the excipients.
Dosage
Cat Fleas and Ticks
Protect your cat from fleas by administering this treatment once a month. It is recommended that you also treat your home if your cat has had fleas. This will help to prevent your cat from any remaining fleas and their larvae.
| | | | |
| --- | --- | --- | --- |
| < 2.5 kg | Advantage 40 | One pipette | Monthly |
| 2 kg - 4 kg | Advantage 40 | One pipette | Monthly |
| 4 kg - 6kg | Advantage 80 | One pipette | Monthly |
Cat Worming
Customer reviews
Product reviews are filtered by language.
The following reviews are available in English.
Flea and worming

I have two 8 and 9 year old cats I use both advantage and Drontol very easy to use ,I trust it I feel secure my cats are covered for most things

great !

great ! great ! great ! great !

Flea treatment

Came super quick will keep ordering from this company

Flea treatment

We use this for both our cats, and it's much cheaper than buying from our vet, who charges £25 for exactly the same thing.

Super Product

So far, we have found the Advantage flea treatment to be completely effective. It is great to have the option for smaller cats, as the less chemicals the better in my opinion.