Skip to content
Skip to navigation menu
Advantage 80 for Large (4-8kg) Cats and Rabbits - 4 pipettes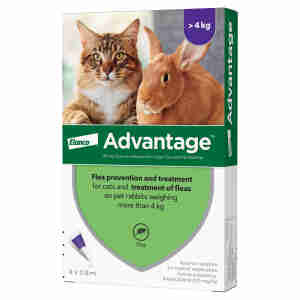 Product details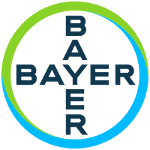 Trusted Supplier
Advantage 80 for Large Cats and Rabbits is a fast and simple-to-use treatment for flea infestations. It's waterproof too, so you can still give your pet a bath whenever they need one.
How it works
Advantage 80 kills most fleas within a day of treatment. It can also stop further flea problems for up to three to four weeks in cats and one week in rabbits.
It's easy to apply too, and painless for your pet. Just part their coat between the shoulder blades to show their skin. Then use the pipette to apply one spot at the base of their skull, then one more a few centimetres back. Putting the treatment here means your pet won't be able to lick or scratch it off, so it can keep killing fleas for up to four weeks.
Use Indorex Household Flea Spray to keep fleas from spreading into your house.
Key benefits
helps treat and prevent flea problems in cats
helps treat and prevent flea problems in rabbits that weigh between four kilograms and eight kilograms
works fast, killing most fleas within twenty-four hours
helps to leave cats free of fleas for up to three to four weeks and up to one week for rabbits
can be used to kill flea larvae around the home
works even when wet – great for pets who need to be bathed often.
What it's for
Fleas love warm weather, so it's quite common that your cat or rabbit might get infected in spring or summer. That said, they also love cosy heated houses, so it's important to look out for them even when it's a bit chillier outside. Fleas have strong hind legs, so they can jump from one pet to another, or even onto a rug or bed in your house!
A flea infection could make your cat or rabbit start losing their hair and their bites are very irritating too. Your cat or rabbit might also be allergic to flea bites, which can make them even more painful. Advantage 80 kills fleas quickly, so they won't get the chance to lay eggs. The medicine works even when it's wet, which is ideal if you need to bathe your pet a lot.
Dosage
| | | | | | | | |
| --- | --- | --- | --- | --- | --- | --- | --- |
| Cat Weight | Product | Quantity | Dosing Schedule | Product | Quantity | Dosing Schedule | Product link |
| < 2.5 kg | Advantage 40 | One pipette | Monthly | Drontal Cat | One Half Tablet | Every 3 Months | |
| 2 kg - 4 kg | Advantage 40 | One pipette | Monthly | Drontal Cat | One Tablet | Every 3 Months | |
| 4 kg - 6kg | Advantage 80 | One pipette | Monthly | Drontal Cat XL | One Tablet | Every 3 Months | |
Customer reviews
Product reviews are filtered by language.
The following reviews are available in English.
Fantastic for flea prevention

I highly recommend this product, it is easy to use, very effective. Especially when I have 2 very fussy cats. Great for flea prevention.

It works fine

This product works fine I switch between Spot on and this periodically to prevent the flees building an immunity, and both work fine. I do prefer the pipettes to the ones used with Spot on, I find them easier to use. My only grip is delivery times I don't think I should wait a week for a product when I have paid postage.

perfect

This product works every time.

It works!

I've been using this spot on for quite a while now after a previous spot on failed to work. This product keeps unwanted visitors at bay, and when you have 6 cats, as we do, it is essential.

Effective flea treatment

This is a very effective flea treatment for the larger cat. I have used this product on my rescue cat for about 3 years. It is easy to use and unlike a spray, does not alarm your animal when administering. Also at a fraction of the price that you would pay at a veterinary clinic. I would recommend this product.