Skip to content
Skip to navigation menu
Advantage 80 for Large (4-8kg) Cats and Rabbits - 4 pipettes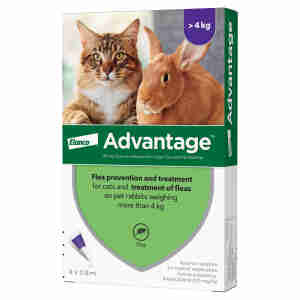 Rollover image to zoom
Product details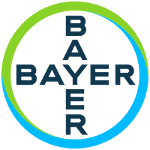 Trusted Supplier
Advantage 80 for Large Cats and Rabbits that weigh 4kg to 10kg, can be used for both the treatment and prevention of flea infestations on cats, and the treatment of fleas on rabbits.
How it works
Advantage 80 is ideal for cats with skin conditions who require bathing as it works even when it's wet, meaning there is no need for reapplication. One treatment prevents further flea infestation for up to three to four weeks on cats and up to one week on pet rabbits. The treatment should be repeated after 4 weeks.
Key benefits:
used for treatment and prevention flea infestations on cats
treats fleas on rabbits
can be used to kill flea larve around the home
fleas are killed within one day following treatment
works even when your pet gets wet
When to use it
Cats and rabbits often get infected with fleas during the warmer months. The insects' strong hind legs enable them to jump from animal to animal, laying eggs along the way. Flea infestations can lead to hair loss, inflammation, and secondary skin conditions like dermatitis. If your pet is allergic to flea bites, there could also be further complications. Advantage 80 kills fleas quickly, stopping them from laying more eggs on your pet, allowing your cat or rabbit to return to their normal happy self
To administer, part the coat between the shoulder blades until the skin is visible. Place the tip of the spot-on pipette on the skin and squeeze gently to empty its contents onto the skin, preferably at two spots, one at the base of the skull and a second 2-3cm's further back.
Fleas can often spread Tapeworms. It is recommended to treat your cat for worms if you suspect they have had fleas. Use Dronspot for Large Cats to keep your cat free from worms
For smaller cats please click here
**Now available without prescription for U.K **
Ingredients
Each tube contains 0.8 ml (80 mg imidacloprid). The product also contains benzyl alcohol and butylhydroxytoluene (E321) as an antioxidant.
Warnings
Do not treat unweaned kittens of less than 8 weeks of age.
Do not use on pet rabbits less than 10 weeks of age.
Dosage
| | | | | | | |
| --- | --- | --- | --- | --- | --- | --- |
| Cat Weight | Product (fleas) | Quantity | Dosing Schedule | Product (wormer) | Quantity | Dosing Schedule |
| < 2.5 kg | Advantage 40 | One pipette | Monthly | Drontal Cat | One Half Tablet | Every 3 Months |
| 2 kg - 4 kg | Advantage 40 | One pipette | Monthly | Drontal Cat | One Tablet | Every 3 Months |
| 4 kg - 6kg | Advantage 80 | One pipette | Monthly | | | Every 3 Months |
It is recommended that your home is also treated for fleas to prevent the likelihood of reinfestation.
Customer reviews
Product reviews are filtered by language.
The following reviews are available in English.
Advantage 80

Easy to use and very effective.

The best

This cat treatment is the best , easy to use and apply highly recommend this treatment

Years of effective use

I have used this product on two cats continually for almost 6 years. There has been no infestations at any point during this period.

Goodbye Nasties

Wow delivery within 2 days & brilliant product stops them dead!

Best protection ever

The medication works straight away, never had any problems. Recommend to everyone