Skip to content
Skip to navigation menu
Aloe Vera Gel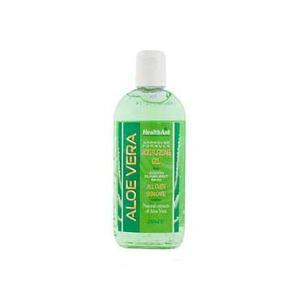 Product details
Aloe Vera is an excellent preparation to use for skin conditions such as allergies, abscesses, fungal infections, pyoderma, and many types of dermatitis. The oral gel can be given in the food, and the topical varieties applied directly to the skin. Aloe Vera will decrease inflammation as well as helping to remove dead cells and discharges. It will encourage a suitable environment for regeneration of cells so aiding the healing of wounds.

Wounds and burns respond particularly well to Aloe Vera. For a wound or burn to heal effectively it must be kept clean and moist with a supply of nutrients. It will also require air and may need protecting. Take care when removing dressings not to damage new cells. Aloe Vera can aid the natural healing processes and help secure the above objectives.

One of the most common ear conditions is otitis externa where infection and inflammation develop in the vertical and horizontal ear canals. These are often mixed infections of mites, bacteria, fungi, and yeasts and may also involve foreign bodies such as grass seeds. Aloe Vera gel can be very useful in treating this condition. Always ensure that a vet sees the ear so that causes such as foreign objects and tumours can be dealt with if present.

Eye conditions are potentially more serious and should always be examined by a vet. A dilute solution of Aloe Vera can be helpful for conjunctivitis and keratitis.

Aloe Vera is a complex plant made up of many constituent parts including vitamins, amino acids, enzymes, and mono and polysacchrides. These are what give Aloe Vera its many healing properties.
Customer reviews
Product reviews are filtered by language.
The following reviews are available in English.
Good stuff!!

My tubs of gel did not resemble the picture and took 2 weeks plus to arrive but the gel is lovely and works a treat on my friends horse

Aloe Vera Clear Gel.

Lovely product. Nice, natural with no strong scent. It is helping treat small areas of dry skin on my dog & working well. Recommended.