Skip to content
Skip to navigation menu
Animate Human Red Reindeer Pom Pom Nose Crew Neck Jumper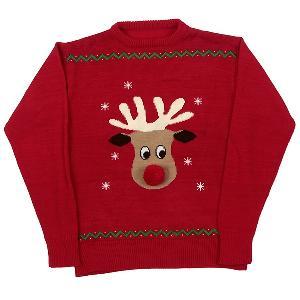 Product details
If you want the whole family to wear matching Christmas outfits (including your dog!), the Animate Human Red Reindeer Pompom Nose Crew Neck Jumper is the festive knit for you! In comes in different human sizes and matches your pup's seasonal get-up perfectly.
What it's for
Don't be left out of the holiday fun – you can have a crazy Christmas jumper too! These jumpers are available in human sizes and there's a matching doggie version too, for pooches of all shapes. Both have the same reindeer design and bright festive colours, so this pullover is perfect if you want to coordinate with your pet for the annual family photograph. On cold winter walks, the soft acrylic weave will keep you toasty and, if your furry friend is wearing his matching sweater, he'll enjoy having that extra layer of warmth on his back too.
Key benefits
soft and cosy acrylic knit
machine washable
available in three sizes
matches the Christmas dog jumper
knitted pattern that won't come off in the wash
3D pom pom nose detail
can be worn all winter.
How it works
Wearing matching outfits really help to show that your buddy's an important part of the family. Not just for Christmas Day, it's warm enough to keep you cost all winter long. No need to worry about muddy puddles on walks (or spilling your Christmas dinner, for that matter!) because the soft acrylic knit is machine-washable. This jumper is suitable for men and women, and is available in three sizes for humans.
Sizeguide:
Extra Small - 6 - 8 Ladies size, larger children
Small - 10 - 12 ladies, 36" - 40" gents
Medium - 40" - 44" gents
Large - 44" - 48" gents