Skip to content
Skip to navigation menu
Anxitane Tablets (30 Pack)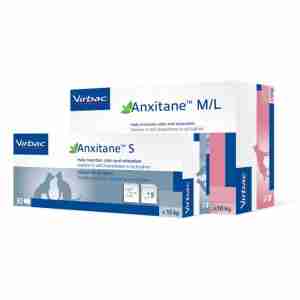 Rollover image to zoom
Product details
Anxitane tablets can be used to treat anxiety in dogs and cats.
How it works
Containing L-Thainine, these natural tablets come in a chewable fish flavoured form. Use them as a treat or mix them into your pet's meal. The natural ingredients are intended to soothe your pet by having a positive effect on their brain receptors.
Key benefits
tasty fish flavoured tablet
natural ingredients
calming effect without drowsiness
suitable for cats and dogs
When your pet shows nervousness, anxiety or stress as a reaction to their environment, Anxitane tablets can be given to ease them. It could happen due to moving house, loud noises, new people and many more reasons.
When to use it
If you are aware of a stressful event, Anxitane should be given 2 weeks before to help ease your pet. The tablets can also be used once signs of stress have been identified.
In dogs, this can be panting, excessive dribbling, baring teeth, tail tucking, excessive licking and excessive barking. In cats, cowering or trembling, a tendency to run and hide, hostile behaviour, defecating outside the litterbox and dribbling can suggest stress.
Anxitane Small is suitable for cats and dogs that weigh less than 10kg.
Anxitane Medium/Large is suitable for dogs that weigh more than 10kg.
To ensure that you read the most up to date information about this product, please check the VMD's Product Information Database.
Legal category: AVM_GSL | Product Information Database
Customer reviews
Product reviews are filtered by language.
The following reviews are available in English.
Catlady

Have nine cats. All neutered but still have the obvious problem of stress and territorial disputes. This as any cat owner will know results in unwanted behaviours mainly spraying and fighting. I've been using this product for about three months and it really does seem to help calm things down. I started and then stopped and def saw a difference when I stopped it.