Skip to content
Skip to navigation menu
Arden Grange Adult Cat Light Chicken & Potato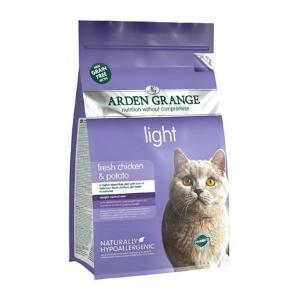 Product details
Arden Grange Adult Cat Light Chicken & Potato is a complete super premium pet food for adult cats that are less active, overweight or prone to weight gain such as neutered or indoor cats.
Although this feed is lower in calories and fat than Arden Grange's standard diets it's still generously full of fresh chicken to provide a healthy yet delicious meal. It's free from grains and cereals to more closely reflect a cat's natural diet, while providing the balanced nutrition required for our domesticated feline friends.
Key Benefits:
Super premium pet food
Low in calories
Low in fat
No grains or cereals
Ingredients
Fresh chicken (26%), potato (26%), chicken meat meal (22%), pea starch, egg powder, chicken digest, salmon oil, yeast extract, malt extract, pea fibre, chicken oil, minerals, prebiotic FOS, prebiotic MOS, cranberry extract, glucosamine, MSM, chondroitin, nucleotides.
Analytical Constituents: Crude Protein 30%, Fat Content 11%, Crude Ash 7.5%, Crude Fibres 2.4%, Calcium 1.4%, Phosphorus 0.9%, Taurine 1000mg/kg, Omega-3 0.2%, Omega-6 1.8%.
Dosage
Arden Grange Cat Food Feeding Guide
There are two recommended ways to feed your cat depending on preference: 1) Divide the daily portion (see chart) into two or three meals a day or 2) Place the daily portion in your cat's bowl in the morning and allow your cat to consume freely throughout the day. May be fed dry or with warm water added. If warm water is added, free feeding should not apply. Free feeding is not
recommended for dieting animals. Please seek advice from your veterinary surgeon before putting your cat on a diet. *The feeding guide refers to a weight maintenance diet. For weight reduction feeding quantities, please refer to the packaging*
Recommended Feeding Chart
Weight Kgs.

Grams / Day

1. 5 - 2. 5
24 - 36
2. 5 - 4. 5
36 - 57
4. 5 - 6. 5
57 - 78
6. 5 - 9
78 - 103
* Regular State
3. 5 - 4. 5
49 - 70
4. 5 - 5. 5
70 - 86
5. 5 - 7
86 - 96
* Pregnancy
Using the Feeding Charts
The Arden Grange feeding charts will give an estimation of the daily feeding quantity based on your cat or dog's weight.
It is important to remember however that these figures are guidelines only, and there are several factors to be taken into account when assessing your pet's nutritional requirements : -
Activity levelTemperament
(stressed animals burn off more calories than relaxed ones)
Metabolism
(every animal is an individual with his or her own speed of metabolism; this means that 2 dogs of the same age, breed and weight could have different daily calorie requirements)
In order to provide the correct portions, it is also helpful to assess your pet's appetite, visual appearance and stools. Whilst poo watching does not sound particular pleasant, it is one of the best indicators of health. Increased frequency of passing faeces, production of large quantities of stools of loose motions are often frequent signs that an animal is receiving more food than he or she requires.
It is important to obtain an accurate weight for your cat or dog, and also to weigh out the food. Guessing on both accounts gives a large margin of error.
Customer reviews
Product reviews are filtered by language.
The following reviews are available in English.
Great food

My three cats love this food

Arden grange food

My cat loves it looks forward to breakfast and lunch and eats all . Good value for money and a very happy cat x

My cat has been on this for 6 months. She was getting a tummy and needed to lose 1kg. Together with exercise, the weight is slowly coming off. She loves it. It's helped a little with her skin condition too. Recommended.

I switched to this to help my cat's weight issues and itchy skin. After 5+ months, the weight is gradually coming off and her skin is better. She loves it, licks the bowl clean!

Put my cat on this food as she was itching all the time and was over weight, she has been on it now for 5 weeks her itching has almost stopped.She has started to loose some weight and is far more active than she has ever been.She loves this food and she has not been sick once from eating it which has happened in the past with other brands.