Skip to content
Skip to navigation menu
Arden Grange Adult Dog Large Breed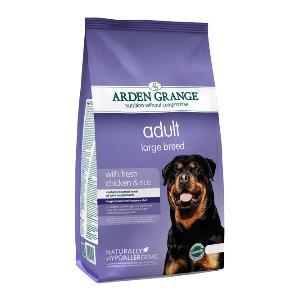 Product details
Arden Dog Adult Large Breed Chicken and Rice is made to meet the specific needs of bigger dogs.
What it's for
Bigger dogs tend to carry a lot more weight, which can put extra pressure on their joints. Too much pressure can lead to inflammation, sore muscles and mobility disorders. Large-breed dogs also need a lot more energy from their food than smaller dogs to keep them bounding around all day.
There are a few things you can look out for if you think your pet could do with some extra support. Limping, holding a limb awkwardly and having difficulty moving or playing are all signs that your pup might have a problem with their mobility. If you spot any of these signs, you should speak to your vet as soon as possible.
You can help your dog stay healthy by giving them a diet made to support their joints. Arden Dog Large Breed can replace your pup's regular food. Check the feeding guidelines to make sure they're getting the right amount of food for their size and weight.
Key benefits
a complete mix developed specifically for large breeds
kibble size designed specifically to suit the jaw of bigger dogs
added glucosamine, chondroitin and MSM help to keep their joints healthy
high in protein to give your dog an energy boost and repair damaged muscle
a moderate fat content helps to stop them gaining weight.
How it works
Arden Dog Adult Large Breed Chicken and Rice has everything needed to keep large-breed dogs happy and healthy. This kibble has been developed specifically to suit the jaw of bigger dogs making it comfortable for them to get a satisfying meal.
Years of running, jumping and playing can put pressure on your pup's joints, especially if they're already big. This mix has added glucosamine, chondroitin and MSM to help reduce inflammation in the joints and keep them supple.
Made using quality chicken chunks, this complete food is an excellent source of protein. Protein not only gives your dog the energy they need to keep on the go, it's also essential to repairing muscle so that your furry friend's always walkies-ready!
Ingredients
Ingredients: Chicken meat meal (25%), rice (25%), maize, chicken oil, beet pulp, fresh chicken (5%), chicken digest, yeast, whole dried egg, linseed, fish meal, fish oil, glucosamine (740mg/kg), MSM (740mg/kg), prebiotic FOS, prebiotic MOS, chondroitin (520mg/kg), cranberries, yucca extract, nucleotides.
Analytical Constituents: Crude Protein 24%, Fat Content 14%, Crude Ash 7%, Crude Fibres 2.5%, Calcium 1.2%, Phosphorous 0.75%, Omega-3 0.98%, Omega-6 2.74%, L-carnitine (50mg/kg).
Additional Information
Cost Effective Pet Food Nutrition
Arden Grange is unique in that when developing our products, we create the recipe first and then fix a price. We don't set a price first and then source the ingredients to fall within a specific cost bracket. This means we can guarantee that every single one of the nutrients used is super premium quality, offering the best nutrition for your pet. We manufacture to a fixed recipe, and will never reduce the quality of our ingredients because of market prices.
It is impossible to compare two different manufacturer's feeds price-wise bag for bag. This is because the feeding recommendations may differ. To make a true comparison, you would need to work out the daily feeding cost.
Arden Grange Adult Large Breed Chicken dog food can often work out cheaper than you think with a 12kg bag containing 43 days of feeding with an average monthly feeding cost from £25. 87p, based on the average requirement of a 30kg adult dog with normal activity*
*Based on the recommended manufacturer retail price for the largest available bag size, and recommended feeding guidelines from the manufacturer.
Recommended Feeding Chart
| | |
| --- | --- |
| Weight Kgs. | Grams / Day |
| 20 - 25 | 263 - 309 |
| 25 - 30 | 309 - 345 |
| 30 - 35 | 345 - 382 |
| 35 - 40 | 382 - 417 |
| 40 - 45 | 417 - 453 |
| 45 - 50 | 453 - 490 |
| 50 - 55 | 490 - 520 |
| 55 - 60 | 520 - 551 |
| 60 - 65 | 551 - 582 |
| 65 - 70 | 582 - 607 |
| 70 - 75 | 607 - 639 |
| 75 - 80 | 639 - 669 |
| 80 - 25 | 263 - 309 |
| 25 - 30 | 309 - 345 |
| 30 - 35 | 345 - 382 |
| 35 - 40 | 382 - 417 |
| 40 - 45 | 417 - 453 |
| 45 - 50 | 453 - 490 |
| 50 - 55 | 490 - 520 |
| 55 - 60 | 520 - 551 |
| 60 - 65 | 551 - 582 |
| 65 - 70 | 582 - 607 |
| 70 - 75 | 607 - 639 |
| 75 - 80 | 639 - 669 |
If using Arden Grange Partners in conjunction with Arden Grange Complete dry foods, follow guidelines on the dry food bag but reduce the amount you feed by 40grms for every 120gms of Partners fed.
Feeding The Correct Amount
It is important to remember however that these figures are guidelines only, and there are several factors to be taken into account when assessing your pet's nutritional requirements : -
Activity level
Temperament (stressed animals burn off more calories than relaxed ones)
Metabolism (every animal is an individual with his or her own speed of metabolism; this means that 2 dogs of the same age, breed and weight could have different daily calorie requirements)
In order to provide the correct portions when feeding your dog or cat, it is also helpful to assess your pet's appetite, visual appearance and stools. Whilst poo watching does not sound particularly pleasant, it is one of the best indicators of health. Increased frequency of passing faeces, production of large quantities of stools of loose motions are often frequent signs that an animal is receiving more food than he or she requires.
It is important to obtain an accurate weight for your cat or dog, and also to weigh out the food. Guessing on both accounts gives a large margin of error.
Changing Food Brands
For a successful diet change, we recommend following the feeding pattern below. The daily feeding amount should be split into two equal amounts and the proportions of new food increased over the first week as illustrated.

TOP TIPS: For those dogs who do not make eating a priority, here are some additional points:
- Reduce the number of tit-bits given during the introductory period
- If your dog has been used to eating wet food, moisten with warm water.
DAY 1-2

75% Original Diet
25% New Food
DAY 3-4

50% Original Diet
50% New Food
DAY 5-6

25% Original Diet
75% New Food
Customer reviews
Product reviews are filtered by language.
The following reviews are available in English.
Leonberger

Great value food for our two Leonbergers

Thank you from my dogs

Delighted at finding a dog food product that all 3 of my big dogs enjoy.

Good value

Excellent service and value disappointed product was low in stock levels as it was for Christmas period however order was fulfilled in time thank you

Great food for giant breeds

Have fed our great dance on Arden Grange for 5+ years with no ill effects [bloat] Her coat and vitality, now 7 years, elicits frequent compliments. I would recommend this for other owners of large dogs.

Great for a Great Dane

We have been feeding our great dance on Arden Grange for a number of years now. Her coat is glossy, she is yet to slow down at 7 years of age and we have never had to deal with the affliction & bloat. I would recommend it for owners of giant breeds.