Skip to content
Skip to navigation menu
You have setup the following Repeat Order: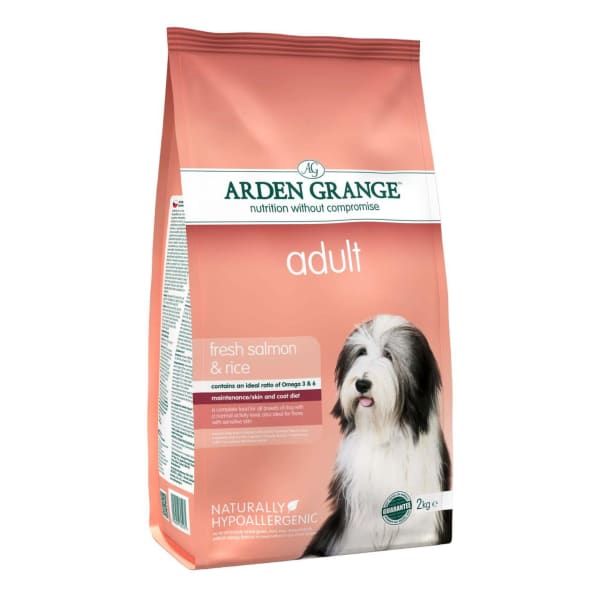 Arden Grange Adult Salmon & Rice Dry Dog Food
Arden Grange Adult Salmon & Rice Dry Dog Food
A highly palatable and digestible salmon recipe suited to normally active adult dogs. Salmon provides an excellent protein source and offers skin and coat benefits. Salmon is gentle on the...
Read more
Arden Grange Adult Salmon & Rice Dry Dog Food
Back in stock notification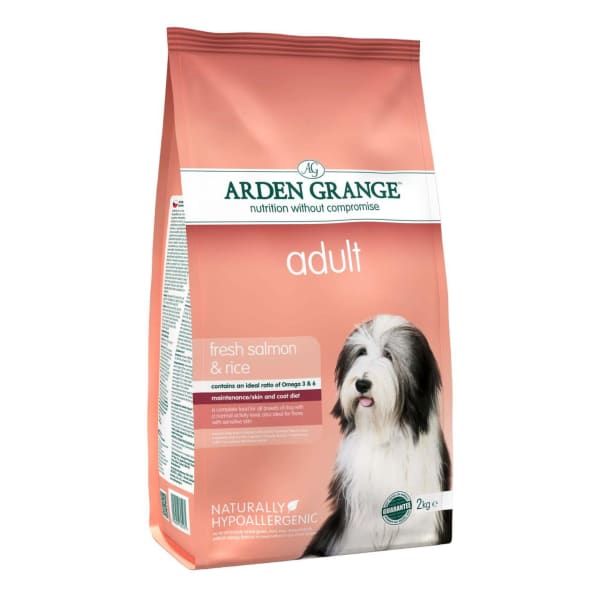 Arden Grange Adult Salmon & Rice Dry Dog Food
Arden Grange Adult Salmon & Rice Dry Dog Food
Enter your name and email address below then select which items you would like to be notified of when available.
Product details
A highly palatable and digestible salmon recipe suited to normally active adult dogs. Salmon provides an excellent protein source and offers skin and coat benefits. Salmon is gentle on the digestion and can also be of real benefit for dogs with sensitive skin. All our foods contain a unique blend of nutrients and natural supplements to help promote the optimum health, vitality and condition of your pet.
Fresh salmon as the primary ingredient - top quality protein source that is both palatable and digestible
Low antigenicity - low down on the list of potential triggers of food allergies and therefore unlikely to trigger an adverse food reaction
Higher levels of Omega 3 fatty acids naturally present in fish oil - may help to reduce the amount and effects of histamine produced in response to allergens
Feeding Quantities: As well as your dog's body weight; age, activity level, temperament, digestion and rate of metabolism may influence the amount of food required. See chart below for guidance. Always ensure fresh, clean drinking water is available.
Ingredients
Fresh Salmon (26%), rice (26%), chicken meat meal, maize, beet pulp, refined chicken oil, whole dried egg, chicken digest, fish meal, yeast, whole linseed, krill, minerals, prebiotic FOS, prebiotic MOS, yucca extract, glucosamine, MSM, chondroitin, cranberries, nucleotides.
Analytical Constituents: Crude Protein 25%, Fat Content 15%, Crude Ash 7%, Crude Fibres 2.5%, Calcium 1.2%, Phosphorous 0.75%, Omega-3 0. 85%, Omega-6 3.10%
Nutritional Additives (per kg): Vitamin A 18000 IU, Vitamin D3 1350 IU, Vitamin E 240 IU
Feeding Guide
Dog Body
Weight
Grams
per Day
Dog Body
Weight
Grams
per Day
1-3 kg
25-55g
40-45 kg
395-430g
3-5 kg
55-85g
45-50 kg
430-465g
5-10 kg
85-140g
50-55 kg
465-500g
10-15 kg
140-190g
55-60 kg
500-535g
15-20 kg
190-235g
60-65 kg
535-565g
20-25 kg
235-275g
65-70 kg
565-600g
25-30 kg
275-315g
70-75 kg
600-630g
30-35 kg
315-355g
75-80 kg
630-660g
35-40 kg
355-395g
.
.
Ideal adult maintenance feed for pet dogs or those in light work. Also suitable for older puppies and juveniles should a chicken-based food be unsuitable.
Dosage
Cost Effective Pet Food Nutrition
Arden Grange is unique in that when developing our products, we create the recipe first and then fix a price. We don't set a price first and then source the ingredients to fall within a specific cost bracket. This means we can guarantee that every single one of the nutrients used is super premium quality, offering the best nutrition for your pet. We manufacture to a fixed recipe, and will never reduce the quality of our ingredients because of market prices.
It is impossible to compare two different manufacturer's feeds price-wise bag for bag. This is because the feeding recommendations may differ. To make a true comparison, you would need to work out the daily feeding cost.
Arden Grange Adult Salmon dog food can often work out cheaper than you think with a 15kg bag containing 57 days of feeding with an average monthly feeding cost from £23. 14p, based on the average requirement of a 20kg adult dog with normal activity*
*Based on the recommended manufacturer retail price for the largest available bag size, and recommended feeding guidelines from the manufacturer.
Recommended Feeding Chart
| | |
| --- | --- |
| Weight Kgs. | Grams / Day |
| 1 - 3 | 36 - 73 |
| 3 - 5 | 73 - 103 |
| 5 - 10 | 103 - 165 |
| 10 - 15 | 165 - 217 |
| 15 - 20 | 217 - 263 |
| 20 - 25 | 263 - 309 |
| 25 - 30 | 309 - 345 |
| 30 - 35 | 345 - 382 |
| 35 - 40 | 382 - 417 |
| 40 - 45 | 417 - 453 |
| 45 - 50 | 453 - 490 |
| 50 - 55 | 490 - 520 |
| 55 - 60 | 520 - 551 |
| 60 - 65 | 551 - 582 |
| 65 - 70 | 582 - 607 |
| 70 - 75 | 607 - 639 |
| 75 - 80 | 639 - 669 |
If using Arden Grange Partners in conjunction with Arden Grange Complete dry foods, follow guidelines on the dry food bag but reduce the amount you feed by 40grms for every 120gms of Partners fed.
Feeding The Correct Amount
It is important to remember however that these figures are guidelines only, and there are several factors to be taken into account when assessing your pet's nutritional requirements : -
Activity level
Temperament (stressed animals burn off more calories than relaxed ones)
Metabolism (every animal is an individual with his or her own speed of metabolism; this means that 2 dogs of the same age, breed and weight could have different daily calorie requirements)
In order to provide the correct portions when feeding your dog or cat, it is also helpful to assess your pet's appetite, visual appearance and stools. Whilst poo watching does not sound particularly pleasant, it is one of the best indicators of health. Increased frequency of passing faeces, production of large quantities of stools of loose motions are often frequent signs that an animal is receiving more food than he or she requires.
It is important to obtain an accurate weight for your cat or dog, and also to weigh out the food. Guessing on both accounts gives a large margin of error.
Changing Food Brands
For a successful diet change, we recommend following the feeding pattern below. The daily feeding amount should be split into two equal amounts and the proportions of new food increased over the first week as illustrated.

TOP TIPS: For those dogs who do not make eating a priority, here are some additional points:
- Reduce the number of tit-bits given during the introductory period
- If your dog has been used to eating wet food, moisten with warm water.
DAY 1-2

75% Original Diet
25% New Food
DAY 3-4

50% Original Diet
50% New Food
DAY 5-6

25% Original Diet
75% New Food
Customer reviews
Product reviews are filtered by language.
The following reviews are available in English.
Reliable and our dog always enjoys

Excellent. Always enjoys this food, but likes the variety

Great food

My dogs seem healthier on this without being too lively which can happen with some foods and a lively breed. Shiny noses, sparkly eyes, waggy tails.

We have a spaniel and a terrier and they both love

Easy to order, fast delivery, healthy and my dogs love it

She love it

Good food , my dog eat it with pleasure. I hope hypoallergenic effect will be good.

Jerry loves it!!

Good wholesome dog food that Jerry loves to eat. Rich in salmon and rice without the smell.