Skip to content
Skip to navigation menu
You have setup the following Repeat Order: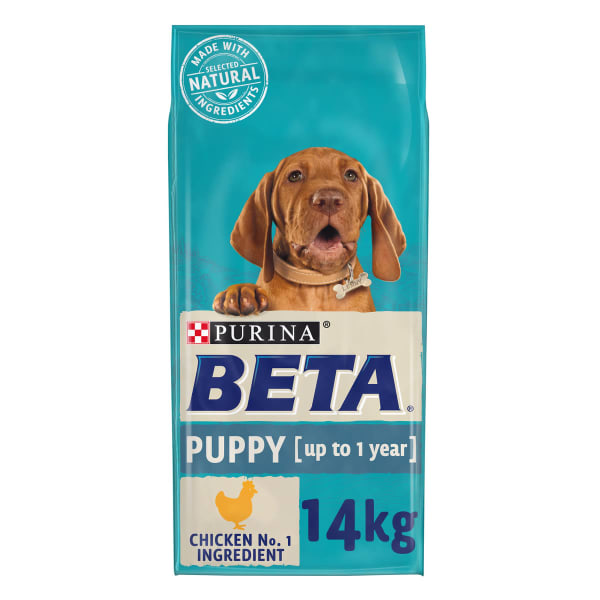 BETA Puppy Upto 1 Year Dry Dog Food - Chicken
BETA Puppy Upto 1 Year Dry Dog Food - Chicken
BETA Puppy Upto 1 Year Dry Dog Food - Chicken
Back in stock notification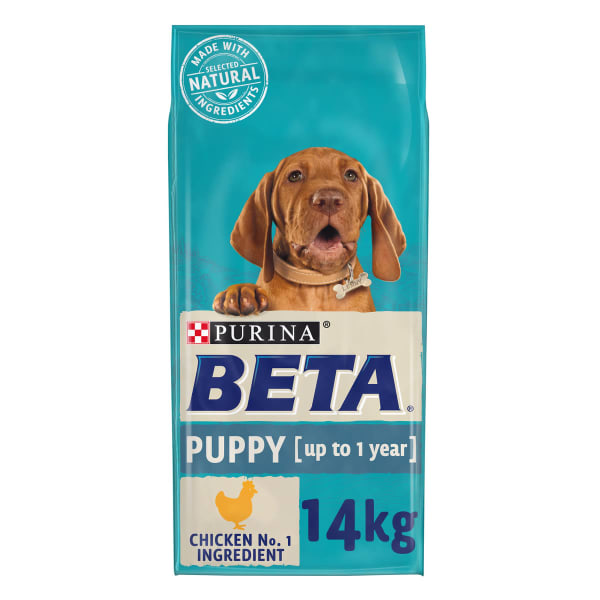 BETA Puppy Upto 1 Year Dry Dog Food - Chicken
BETA Puppy Upto 1 Year Dry Dog Food - Chicken
Enter your name and email address below then select which items you would like to be notified of when available.
Product details

Nutrition is never more important than when your dog is a puppy, rapidly developing in both body and mind. As a puppy hell need around twice as many calories to sustain his boundless energy, and his muscles will need the correct balance of high quality proteins and nutrients to help him develop into a strong, healthy adult. The right balance of calcium, phosphorus and vitamins help promote the growth of strong bones and teeth.

Beta Puppy is specifically developed for puppies with 29% protein, 15% fat, and 23 vitamins and minerals. Beta Puppy is the perfect start in life with 100% complete food for puppies from weaning to adulthood. Beta Puppy recipes are also suitable for gestation and lactation and for adult toy dogs.

Rich in meat as a natural source of protein, Beta Puppy is a 100% complete food, carefully balanced with wholesome ingredients such as wholegrain cereals and rice to promote the optimal growth of your puppy from 6 weeks to 1 year.

It has been formulated with the correct balance of nutrients for puppies bones, joints and teeth and to help support a healthy digestive and immune system.

Beta Puppy contains the right balance of calcium, phosphorus and vitamin D for a natural development of your puppy's strong bones, healthy joints and teeth. It contains Vitamins E and C which act as antioxidants to fight free radicals and help maintain strong natural defences

Beta Puppy is formulated with rice and a special combination of natural fibres from chicory and beet pulp. Rice helps make Beta more digestible and chicory is a natural source of prebiotics, which have been proven to help increase the number of good bacteria in the gut and improve digestive health. Beet pulp is well known to help improve stool quality.


Ingredients
Composition: Chicken meal (27%), wheat, corn, poultry fat, wheat middling, dehydrated animal protein, soya meal, dried beet pulp, digest, dried chicory root (1%), minerals, fish oil, dried carrot (0.07%), dried spinach (0.07%), dried parsley (0.07%).
Additives:
Protein 28%, fat content 12%, crude ash 7.5%, crude fibres 2.5%, DHA 0.05%.
Nutritional additives:
IU/kg: Vit. A: 22 600; Vit. D3: 1 300; Vit E: 105
mg/kg: Fe (E1): 93; I (E2):2.4; Cu (E4): 10; Mn (E5): 7; Zn (E6): 133; Se (E8): 0.22.
With antioxidants.
Feeding Guide
Daily feeding amounts for puppies (grams per day):
| Expected adult body weight | 6 weeks to 3 months | 3 to 5 months | 5 to 8 months | 8 to 12 months | 1-2 years | After 2 years |
| --- | --- | --- | --- | --- | --- | --- |
| Small (1-5kg) | 25 – 110g | 40 – 130g | 45 – 130g | 40g – Adult | Adult | Adult |
| Medium (5-12kg) | 70 – 240g | 110 – 280g | 130 – 290g | 130g – Adult | Adult | Adult |
| Large (12-25kg) | 130 – 410g | 240 – 480g | 280– 450g | 290 – 420g | Adult | Adult |
| Large (25-45kg) | 215 - 600g | 420 – 820g | 530 – 870g | 460 - 720g | 430 - 610g | Adult |
| Giant (45-70kg) | 290 - 720g | 600 – 1130g | 820 – 1130g | 860 - 1130g | 720 - 985g | Adult |
Recommended number of feedings is as follows:

Feed puppies younger than 3 months of age 3-4 times a day. Food should be moistened to aid chewing.

After 3 months of age, gradually reduce moistening and feed 3 times per day.

From 6-12 months, provide 2 daily meals. Feed according to the recommendation table, and avoid overfeeding to help maintain a lean body condition during growth. Each puppy is different; depending on his activity levels and body condition, his food amount may need to be adjusted.

If your dog is pregnant, in the last 3 to 4 weeks before the litter is due, you should increase the amount of food by 1.5 to 2 times the normal amount. Continue to feed the same amount while she's nursing. After weaning, you can go back to feeding the mother her usual amount of food.

For adult toy dogs weighing between 1-5kg, feed about 30-120g per day, adjusting the quantity according to your dog's activity levels.

Clean, fresh water should be available at all times.
Customer reviews
Product reviews are filtered by language.
The following reviews are available in English.
Brilliant

I bought this for my two boxer puppies as it was recommended from The breeder. They Love it there is nothing left after they have eaten. their coats are healthy and the toilets are healthy. I buy for 14/15 kg bag as mine are on two meals a day, I've nearly had my bag for a month now and I still have just under half left. If any value for money. I would recommend 100%

My 6 month old Whippet loves these - we mix them up with about 1/2 a tin of Chappie Original wet food and he can't get enough of it. He has a bit of a nervous tummy and this is nice and gentle for him and keeps him chipper!

I kept this food for my puppy golden retriever as it was used by the breeder. Vet`s approved the puppy is happy to only eat this 3x a day it has a shinning beautiful coat it is growing well and just fit not fat! Would recommend 100 as it is also affordable.

Brilliant value for money. Excellent delivery.



My chocolate labrador puppy was on this food when I picked her up. I had always fed my previous dogs on other foods, so over a period I changed her over. This led to tummy upset and just general `flatness`. So I immediately changed her back to Beta and she has never looked back. She is always full of beans, her coat is lovely and glossy and no more tummy upset. I would definitely recommend to everyone to use it... :)