Skip to content
Skip to navigation menu
Bakers Complete Puppy Beef & Vegetables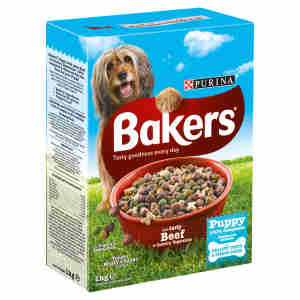 Rollover image to zoom
Product details
Bakers Complete beef and vegetable puppy food is a dry food specially formulated for puppies aged between 6 weeks and 2 years old.
How it works
Puppies have different nutritional needs to adult dogs, and this dry food has extra nutrients and minerals to give your pup a healthy start. It contains DHA fatty acid, which can help to support brain growth and eyesight development, as well as extra protein to help their muscles grow big and strong. Another puppy-centric feature is the soft and supple texture of the kibbles, which are easy for small mouths to handle.
The recipe also includes the usual set of Bakers Complete minerals and vitamins, such as vitamin D to strengthen bones and teeth and omega fatty acids for soft coats and nourished skin. It's also fortified with iron (great for the blood) and antioxidants to support the immune system.
Key benefits
bag contains 1 kilogram of food
fortified with iron to support healthy blood
antioxidants support natural defences
contains added vitamin D and minerals to keep bones and teeth healthy
added omega-3 and omega-6 fatty acids can boost coat and skin health
DHA fatty acid has been shown to encourage brain and eyesight development in puppies
more protein than standard adult food to help support growing muscles
texture is tender and meaty
kibble is smaller than normal, perfect for tiny mouths
intended for puppies aged 6 weeks to 2 years old
When to use it
Puppies can start eating dried food after they're weaned from their mother's milk, which should happen once they're around 7 to 8 weeks old. Puppies have a lot of growing to do, especially during their first 6 months of life, so they need to eat a lot more than adult dogs. Check on your pup's weight during this important time – they should be gaining around 5–10% of their body weight each day. If they aren't growing as expected, bring them to the vet to get checked out.
Ingredients
Bakers Complete Puppy Beef & Vegetables
Ingredients
Cereals, Meat and animal derivatives (Minimum 4% fresh meat in the soft moist kernel, minimum 4% beef in the brown kernel), Vegetable protein extracts, Oils and fats, Various sugars, Derivatives of vegetable origin, Minerals, Vegetables (minimum 4% vegetables in the green and yellow kernels). With antioxidants, coloured with and preserved with EC additives.
Typical Analysis
| | |
| --- | --- |
| Protein | 28. 0% |
| Fat | 12. 0% |
| Ash | 7. 5% |
| Fibre | 2. 5% |
| Calcium | 1. 5% |
| Linoleic acid | 2. 8% |
| Linolenic acid | 0. 16% |
| Vitamin A | 15, 000 IU/kg |
| Vitamin D3 | 1, 000 IU/kg |
| Vitamin E | 75mg/kg |
| Copper (as copper sulphate) | 20mg/kg |
| Iron (as iron sulphate) | 265mg/kg |
Vitamin levels are guaranteed until the best before date shown on product packaging.
Dosage
Bakers Complete Puppy Beef & Vegetables
One half pint mug holds approximately 100g of Bakers Complete Puppy. The daily amount of Bakers Complete Puppy should be given as 4 meals at 6 weeks, 3-4 meals at 3 months, 2-3 meals at 6 months and 1-2 meals at 12 months or adulthood.
As all dogs grow and mature at different rates, depending on breed and also their individual metabolism, their nutritional requirements will vary. Small breeds mature at 12-18 months of age, while giant breeds may not mature until 24 months. Any feeding guide must therefore be used flexibly in order to provide the ideal diet for an active and not over-plump young dog.
Fresh, clean drinking water should always be available.
For puppies it is recommended that the food is moistened with water prior to feeding.
Store in a dry, clean place at ambient temperature.
| | | |
| --- | --- | --- |
| Expected Adult Weight | Age of Dog | Grams per Day |
| Up to 5kg | 6-11 weeks | 25-120g |
| | 3-4 months | 45-125g |
| | 4-6 months | 45-145g |
| | 6-12 months | 50-135g |
| | 12-18 months | Adult |
| | 18-24 months | Adult |
| Expected Adult Weight | Age of Dog | Grams per Day |
| 5-10kg | 6-11 weeks | 75-190g |
| | 3-4 months | 120-200g |
| | 4-6 months | 125-235g |
| | 6-12 months | 145-215g |
| | 12-18 months | Adult |
| | 18-24 months | Adult |
| Expected Adult Weight | Age of Dog | Grams per Day |
| 10-25kg | 6-11 weeks | 110-425g |
| | 3-4 months | 190-470g |
| | 4-6 months | 200-560g |
| | 6-12 months | 235-440g |
| | 12-18 months | Adult |
| | 18-24 months | Adult |
| Expected Adult Weight | Age of Dog | Grams per Day |
| 25-45kg | 6-11 weeks | 220-615g |
| | 3-4 months | 425-720g |
| | 4-6 months | 470-880g |
| | 6-12 months | 560-730g |
| | 12-18 months | 440-615g |
| | 18-24 months | Adult |
| Expected Adult Weight | Age of Dog | Grams per Day |
| 45-70kg | 6-11 weeks | 300-730g |
| | 3-4 months | 615-920g |
| | 4-6 months | 720-1230g |
| | 6-12 months | 880-1140g |
| | 12-18 months | 730-1000g |
| | 18-24 months | 615-780g |
If using Arden Grange Partners in conjunction with Arden Grange Complete dry foods, follow guidelines on the dry food bag but reduce the amount you feed by 40grms for every 120gms of Partners fed.
Feeding The Correct Amount
It is important to remember however that these figures are guidelines only, and there are several factors to be taken into account when assessing your pet's nutritional requirements : -
Activity level
Temperament (stressed animals burn off more calories than relaxed ones)
Metabolism (every animal is an individual with his or her own speed of metabolism; this means that 2 dogs of the same age, breed and weight could have different daily calorie requirements)
In order to provide the correct portions when feeding your dog or cat, it is also helpful to assess your pet's appetite, visual appearance and stools. Whilst poo watching does not sound particularly pleasant, it is one of the best indicators of health. Increased frequency of passing faeces, production of large quantities of stools of loose motions are often frequent signs that an animal is receiving more food than he or she requires.
It is important to obtain an accurate weight for your cat or dog, and also to weigh out the food. Guessing on both accounts gives a large margin of error.
Customer reviews
Product reviews are filtered by language.
The following reviews are available in English.
Much Valued Service

Pet Supermarket provides a much appreciated service. When I';m running short of pet food, it always gets my order to me promptly, often without charge for delivery. The orders are well packaged, and ordered and delivered with the minimum of fuss. It's competitively prices with occasional good offers. I've been using this company for years, and will continue to do so while the service remains excellent. Only quibble, the website could be simplified a bit - there's so much on there, sometimes is difficult to see the wood from the trees. I tend to phone my order in. Otherwise excellent.

worst food= maize, e numbers and sugar. use fish 4 dogs or applaws instead!

Purchased this when there was a special deal offered and am more than happy with the product and the delivery speed. I have used this brand for several of our puppies and have never been disappointed with the quality. When offered at such a good price and with free delivery you can`t go wrong. Will definitely purchase again if the offer is repeated. Thank you Petsupermarket!

Our two Border Puppies love Bakers, not only for their meals but as training treats, they`re growing fast with all Bakers important benefits, strong bones, shiny coats and lots of energy.

really good dog food, been using it for years, excellent service from pet supermarket, quick delivery, good price.