Skip to content
Skip to navigation menu
Bakers Senior Bites Chicken, Rice & Veg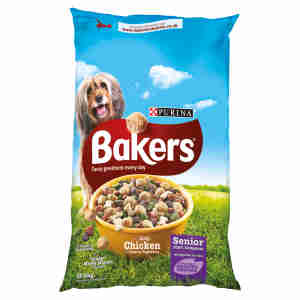 Rollover image to zoom
Product details
Bakers Complete Senior Chicken, Rice & Country Vegetables
Complete food for dogs, from 7 years+
Around the age of 7**, his lifestyle and nutritional needs start to change. He will probably become less active and may be more prone to weight gain. So switch to Bakers Complete Senior to help your dog live life to the full and optimise his health long into his senior years.
Smaller pieces* - for easier chewing
Increased protein* - to help maintain muscle mass
Lower in fat* - to help prevent weight gain
Omega 3 & 6 - for a glossy coat and healthy skin
*When compared to standard adult product
**Size and breed dependent
BAKERS COMPLETE DOG FOOD
Not just delicious, Bakers is doggylicious!
All those moist, meaty chunks and wholesome crunchy kibbles, bursting with flavour to really satisfy your dog's appetite. Here you can discover just what makes Bakers Complete the UK's favourite dry complete dog food.
Just what is it that makes Bakers Complete the UK's favourite dry dog food? The moist meaty chunks? The crunchy, wholesome kibbles? The yummy recipes?
Ask your dog, they will tell you - it's all these things and more.
Whatever your dog's requirements, you can be sure that Bakers provides him with a complete and perfectly balanced diet.
DOGGYLICIOUS TASTE
It's the combination of scrummy, moist meaty chunks and crunchy, wholesome kibbles that make Bakers taste soooo good. Each 'can't wait' Bakers recipe is crammed full of succulent, tender meatiness, select vegetables and crisp cereals so you can be sure your dog will savour every yummy, chewy mouthful. Dogs just can't resist sinking their teeth into tempting tastes like Beef & Country Vegetables, scrumptious Lamb & Rice & Country Vegetables and succulent Chicken & Country Vegetables. And with special varieties for different life stages and lifestyles, formulated for complete balanced nutrition without ever compromising on flavour, it's no wonder Bakers consistently outperforms its major rivals in doggie taste tests.
HEAVEN SCENT
The rich meaty aroma of Bakers Complete is like heaven to your dog. Open up the Bakers at mealtimes and he'll appear - his nose knows what's coming. Smell is a key part of taste, especially for dogs whose noses work about 50 times harder than ours. So, unlike other dry dog food, the moist meaty chunks in Bakers are made with fresh meat with aromas that waft through the air and help your dog have a truly doggylicious dinner every day.
TEMPTING TEXTURES
The blend of crunchy kibbles and satisfyingly moist meaty chunks in Bakers Complete ensure dogs get the textures they crave. For most dogs texture is as important as taste - dinner has to 'feel' right. Bakers means you never have to compromise. There's soft, chewy meatiness your dog can really sink his teeth into, and a crisp crunch that cleans the palate and gets the gums working.
IRRESISTIBLE MEATINESS
Every dog loves the rich satisfying taste of fresh meat. That's why you'll find big, moist, meaty chunks of Beef, Lamb or Chicken inside every doggylicious Bakers recipe - or meaty morsels for pups and seniors. Unlike many other dry dog foods, Bakers Complete is made with fresh succulent meat, and lots of it - to make mealtimes much more of an event. And for those real meat lovers, Bakers Complete Meaty Meals is just full of moist, meaty chunks but still carefully balanced to provide 100% of your dog's nutritional needs.
DRY BUT NOT DRY
When is a dry dog food not a dry dog food? When it's packed full of tender meaty chunks he can really sink his teeth into. A dry food needn't look, or taste, like cardboard. Bakers Complete combines the concentrated goodness of dry food with the satisfying chew of fresh meat. Your dog will love the succulent morsels of Beef, Lamb or Chicken in every doggylicious Bakers recipe.
VARIATIONS ON THEME
You wouldn't get the most out of mealtimes if the menu never changed, and your dog is no different. Doggylicious Bakers Complete is available in five 'can't wait' flavours with a wide selection of recipes to cater for specific diets. They're all crammed full of tasty textures like moist, meaty chunks and crunchy wholesome kibbles, so you can ring the changes and give your dog the variety that he loves. And there's variety in every pack too. Dogs are natural omnivores. They need a healthy balance of protein, vitamins, minerals and other nutrients to keep them fit and active. The Bakers blend of rich meatiness, select vegetables and wholesome cereals contains 100% of the goodness your dog requires to live a happy, healthy life.
After all, it's the spice of your dog's life too...
* Based on the recommended manufacturer retail price of Bakers Complete Adult Chicken & Rice, and recommended feeding guidelines from the manufacturer.
Ingredients
Bakers Complete Senior Chicken, Rice & Veg
Ingredients
Cereals (minimum 4% rice in the green and orange kernels), Meat and animal derivatives (Minimum 4% fresh meat in the moist meaty chunks, minimum 4% beef in the moist meaty chunks), Vegetable protein extracts, Oils and fats, Various sugars, Derivatives of vegetable origin (0. 5% beet pulp in the brown and red kernels), Minerals, Vegetables (minimum 4% vegetables in the green and orange kernels). With antioxidants, coloured with and preserved with EC additives.
Typical Analysis
| | |
| --- | --- |
| Protein | 25. 0% |
| Fat | 8. 0% |
| Ash | 7. 0% |
| Fibre | 3. 0% |
| Calcium | 1. 1% |
| Linoleic acid | min 0. 1% |
| Linolenic acid | min 2. 0% |
| Vitamin A | 12, 000 IU/kg |
| Vitamin D3 | 800 IU/kg |
| Vitamin E (?-tocopherol) | 60mg/kg |
| Copper (Copper Sulphate) | 12mg/kg |
Dosage
Bakers Complete Senior Chicken, Rice & Veg
One half pint mug holds approximately 100g of Bakers Complete Puppy. The daily amount of Bakers Complete Puppy should be given as 4 meals at 6 weeks, 3-4 meals at 3 months, 2-3 meals at 6 months and 1-2 meals at 12 months or adulthood.
As all dogs grow and mature at different rates, depending on breed and also their individual metabolism, their nutritional requirements will vary. Small breeds mature at 12-18 months of age, while giant breeds may not mature until 24 months. Any feeding guide must therefore be used flexibly in order to provide the ideal diet for an active and not over-plump young dog.
Fresh, clean drinking water should always be available.
For puppies it is recommended that the food is moistened with water prior to feeding.
Store in a dry, clean place at ambient temperature.
| | |
| --- | --- |
| Type of Dog | Grams per Day |
| Toy - 1-5kg | 30-100g |
| Typical Breeds: Chihuahua, King Charles Spaniel, Pekingese, West Highland White Terrier & others weighing from 1kg to 5kg. | |
| Small - 5-10kg | 100-165g |
| Typical Breeds: Fox Terrier, Dachshund, Whippet & others weighing from 5kg to 10kg. | |
| Medium - 10-25kg | 165-330g |
| Typical Breeds: Cocker Spaniel, Beagle & others weighing from 10kg to 25kg. | |
| Large - 25-45kg | 330-510g |
| Typical Breeds: Labrador, Pointer, Setter & others weighing from 25kg to 45kg. | |
| Giant - 45-70kg | 510-715g |
| Typical Breeds: Great Dane, Borzoi, Bloodhound & others weighing from 45kg to 70kg. | |
Feeding The Correct Amount
It is important to remember however that these figures are guidelines only, and there are several factors to be taken into account when assessing your pet's nutritional requirements : -
Activity level
Temperament (stressed animals burn off more calories than relaxed ones)
Metabolism (every animal is an individual with his or her own speed of metabolism; this means that 2 dogs of the same age, breed and weight could have different daily calorie requirements)
In order to provide the correct portions when feeding your dog or cat, it is also helpful to assess your pet's appetite, visual appearance and stools. Whilst poo watching does not sound particularly pleasant, it is one of the best indicators of health. Increased frequency of passing faeces, production of large quantities of stools of loose motions are often frequent signs that an animal is receiving more food than he or she requires.
It is important to obtain an accurate weight for your cat or dog, and also to weigh out the food. Guessing on both accounts gives a large margin of error.
Customer reviews
Product reviews are filtered by language.
The following reviews are available in English.
Easy way to buy bulky sized dog food

My dog loves her Bakers ...fast delivery and price is better than supermarkets.

Dog food

Good service good delivery and would buy again from you cheaper than any where else

petsupermarket purchases

excellent service, correct items, delivered within a day or so - well done and thanks

Our two Border Puppies love Bakers, not only for their meals but as training treats, they`re growing fast with all Bakers important benefits, strong bones, shiny coats and lots of energy.

really good dog food, been using it for years, excellent service from pet supermarket, quick delivery, good price.