Skip to content
Skip to navigation menu
Bitter Apple Spray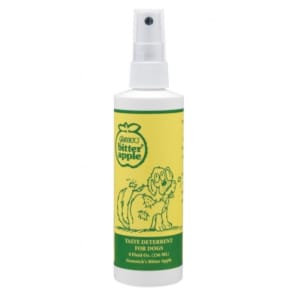 Product details
Help to prevent your dog from getting infections with Bitter Apple Spray.
What's it for
Licking at a wound or sore can lead to nasty infections, especially if your dog is out and about.
Carefully applying the Bitter Apple Spray to a wound dressing will put a stop to this: the sour taste will put your pet off fussing over their cut. You can also use the Bitter Apple Spray to discourage your pet from chewing the furniture. Simply spray onto soft furnishings or wherever your dog likes to nibble, and they'll soon learn to stop gnawing at things they shouldn't. If your pet does persist at a wound while it's healing, you should consult your vet. They'll be able to recommend additional methods to stop your dog from worrying their sore, like a cone or an extra dressing.
Key benefits
spray bottle makes application easy
prevents fur biting and over-grooming, keeping coat in good condition
can be used to train young animals by discouraging chewing
suitable for cats, dogs and ferrets
non-toxic formula
stops your pet from licking wounds or irritated skin
How it works
This Bitter Apple Spray can be used to stop your pet from over-grooming, licking a wound or chewing objects and furniture around the house. Simply spray it on their coat, dressing or surfaces around your home. The bitter taste will put them off from chewing, licking and biting.
This spray is completely safe to use on your pet's fur and objects around the house. It's non-toxic and so won't cause harm to animals or humans. What's more, the Bitter Apple Spray is suitable for cats and ferrets, too.
Customer reviews
Product reviews are filtered by language.
The following reviews are available in English.
Hope I don't need it

I bought this because I read the reviews and my 10 month puppy Bichon, liked to strip the wall paper, I bought it but the little terror must have guessed what it was for and I haven't needed to use it.In my case it was money extremely well spent

Bitter Apple Spray

Works well to deter my adolescent Dobermann from being destructive when he's a bit stressed.

Take a chance on me you may be suprised

I found the spray to be very effective that much so that i only have to show my dog the bottle now and he runs and sits on his bed.

very good

bought this to try and stop my puppy chewing and it works and now only chews his toys!

My dog actually likes it!

Really didn't work for us as my dog seems to enjoy licking the stuff off. May work different dogs but ending up being money wasted for us.