Skip to content
Skip to navigation menu
Blue Tartan Bow For Large Dogs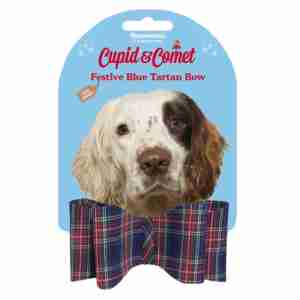 Rollover image to zoom
Product details
Give your furry friend something to wag their tail about this Christmas with this festive blue tartan bow for large dogs.
What it's for
Pop this bow over your dog's collar to get them involved in the celebrations over the festive season. It'll be a great talking point when you have guests over for parties on Christmas Day or the Scottish winter holidays.
Although Christmas is one of the most exciting times of year for us, it can be stressful for your pet. Make sure your dog feels safe and loved by paying them lots of attention and giving them a space to escape to when it all gets too much. Keep them out of the way when you have a full house of strangers so they don't get overwhelmed, and slip them some tasty treats when they've been on their best behaviour.
Key benefits
dress your dog up for Christmas Day
easy to wear: simply slip onto your dog's collar
suitable for larger breeds
blue tartan design celebrates a range of holidays: Christmas, Hogmanay, St. Andrew's Day and Burns Night
14 x 7 centimetres
How it works
You can get your pooch into the Christmas spirit with this adorable blue tartan bow. Simply slip it onto your dog's collar and arrange it at the front or back to get them ready for the big day. This item comes in a large size to suit big-built dogs, like great Danes, wolfhounds and St. Bernards. Your dog might not be the biggest fan of those jumpers and dressing-up outfits that suit smaller breeds, so this bow is a great alternative. You can get your pet involved in the holidays without making them grumpy.