Skip to content
Skip to navigation menu
Burns Original Chicken & Brown Rice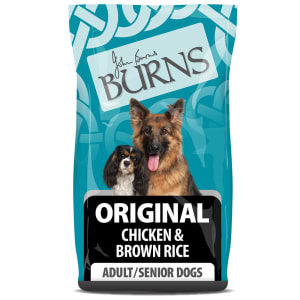 Product details
Burns Original Chicken and Brown Rice can help digestion in dogs with food allergies.
When to use it
A food intolerance or allergy could be making your pup very poorly. Food allergies often happen when your dog's immune system reacts badly to protein in their food. This can have nasty side effects like rashes, itchy skin and an upset stomach, leaving your pet miserable.
Similarly, a food intolerance often happens when your pup has sensitive digestion. Luckily, you can spot a food intolerance pretty easily. If your dog vomits or has diarrhoea after they have eaten a particular type of food, it could be a symptom.
If you think your dog has a food allergy or intolerance you should take them to see the vet straight away. Left untreated, it could lead to your pup losing weight, having little energy and becoming a little glum.
You can make your pet more comfortable while they're poorly by removing the food that's making them ill and giving them plenty of water. Burns Original Chicken and Brown Rice is super easy for your dog to digest and can replace their normal food.
Key benefits
made using completely natural ingredients
doesn't contain wheat, beef or dairy that are the usual causes of intolerance
packed full of fibre to keep your dog feeling full up
lots of vitamins and minerals to help them recover and leave their coat glossy.
How it works
Burns Original Chicken and Brown Rice is made using all natural ingredients to help limit your dog's intake of foods that they're sensitive to. It's packed full of goodness, including seaweed, brown rice, chicken meal, vitamins and minerals, to help your pup feel better.
This complete food doesn't contain wheat, beef or dairy, which are the usual causes of intolerance or allergy in dogs, helping to cut the prime suspects of illness right out of their diet. Containing 18% protein and lots of fibre, it's super easy for your pet's digestive system to break down. This means that they can absorb the maximum amount of goodness from every mouthful.
The high-fibre mix will keep them feeling fuller for longer, making it perfect for pups prone to putting on a few pounds. It also gives them all the energy they need for a day of play and walkies!
When your dog has a food allergy, it can irritate their skin and leave their coat looking dull and feeling rough. This mix has a bonus of added vitamins and minerals to get them looking their best again.
Ingredients
Burns Original with Chicken & Brown Rice
Ingredients

Brown Rice (67%), Chicken Meal (20%), Oats, Peas, Chicken Oil, Sunflower Oil, Seaweed, Vitamins & Minerals.

Analysis
Protein 18. 5%, Oil 7. 5%, Fibre 2. 2%, Ash 7. 0%, Vitamin A 8000 iu/kg, Vitamin D3 1500 iu/kg, Vitamin E 50 iu/kg, Moisture 8%, Copper 15mg/kg, Sodium 0. 13%, Calcium 1. 1%, Phosphorus 0. 63%, Magnesium 0. 10%
Additional Information
Burns Dog Food Daily Feeding Amount
Feeding Guide for Adult Foods
| Weight of dog | g/day | oz/day |
| --- | --- | --- |
| 1-5 kg | 25-50 | 1-2 |
| 5-10 kg | 50-100 | 2-4 |
| 10-20 kg | 100-200 | 4-8 |
| 20-30 kg | 200-300 | 8-12 |
| 30-40 kg | 300-400 | 12-16 |
| 40-50 kg | 400-450 | 16-18 |
Feeding Guide - Puppies & Growing Dogs
| | | |
| --- | --- | --- |
| Weight of dog | g/day | oz/day |
| 1-5 kg | 50-100 | 2-4 |
| 5-10 kg | 100-200 | 4-8 |
| 10-20 kg | 200-300 | 8-12 |
| 20-30 kg | 300-400 | 12-16 |
Mini Bites - Toy Breed Adults
| | | |
| --- | --- | --- |
| Weight of dog | g/day | oz/day |
| 1-5 kg | 25-50 | 1-2 |
| 5-10 kg | 50-100 | 2-4 |

It is important to remember however that these figures are guidelines only, and there are several factors to be taken into account when assessing your pet's nutritional requirements : -Feeding The Correct Amount
Activity level
Temperament (stressed animals burn off more calories than relaxed ones)
Metabolism (every animal is an individual with his or her own speed of metabolism; this means that 2 dogs of the same age, breed and weight could have different daily calorie requirements)
In order to provide the correct portions when feeding your dog or cat, it is also helpful to assess your pet's appetite, visual appearance and stools. Whilst poo watching does not sound particularly pleasant, it is one of the best indicators of health. Increased frequency of passing faeces, production of large quantities of stools of loose motions are often frequent signs that an animal is receiving more food than he or she requires.
It is important to obtain an accurate weight for your cat or dog, and also to weigh out the food. Guessing on both accounts gives a large margin of error.
Changing Food Brands
For a successful diet change, we recommend following the feeding pattern below. The daily feeding amount should be split into two equal amounts and the proportions of new food increased over the first week as illustrated.

TOP TIPS: For those dogs who do not make eating a priority, here are some additional points:
- Reduce the number of tit-bits given during the introductory period
- If your dog has been used to eating wet food, moisten with warm water.
DAY 1-2
75% Original Diet
25% New Food
DAY 3-4
50% Original Diet
50% New Food
DAY 5-6
25% Original Diet
75% New Food
DAY 7
100% New Food
Customer reviews
Product reviews are filtered by language.
The following reviews are available in English.
Excellent product.

A very good product ,the dog likes it very much and his condition is excellent ,have used it for a long time.The item is always delivered prompt in first class condition and is always fresh.

Great product ,excellent service.

I am very pleased with the Burns dry dog food, have been using it a long time with excellent results and the service provided by Pet Meds is excellent ,would highly recommend the company,

Burns dog food

Always shop here never had a problem with order or delivery. Excellent company. I will be ordering with them again. Thanks guys.

Burns chicken and brown rice

The ordering / Delivery service was Excellent from start to finish . Highly recommend

Review dog food.

I am very pleased with the service that Petmeds provide,the product is always in excellent condition when received .i have no complaints with the supplier ,ordering and the delivery is excellent. Well done.