Skip to content
Skip to navigation menu
Calmex for Dogs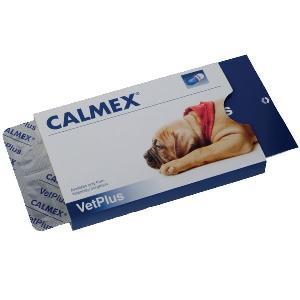 Product details
Make stressful situations manageable for your anxious pet with Calmex for dogs.
What it's for
Lots of situations stress out sensitive pets, from a new baby in the house to loud fireworks. Big lifestyle changes can be the biggest culprit, with unfamiliar surroundings, new faces and a different routine unsettling their sense of calm. During potentially stressful scenarios, watch out for symptoms like shivering, scratching, whining and accidents in the house to gauge how your pet is feeling.
Luckily, Calmex might just be the answer to your dog's worries. It can relax them before trips to the vet or after surgery, or take the edge off when you have a party at home or fireworks are going off. You can reduce your dog's general anxiety by leaving the radio on when you leave them alone in the house and giving them lots of reassurance on your return. If you're worried that your dog seems more stressed or unhappy than usual, contact your vet for advice. This supplement shouldn't be used as a long-term treatment.
Key benefits
calms stressed or anxious dogs
ideal short term solution during periods of upheaval
feed capsules whole or mixed in with their dinner
amino acid content naturally reduces anxiety
B vitamins bolster the nervous system
How it works
This supplement is a handy solution to your dog's anxious behaviour. It comes in capsules, so you can easily feed it whole or mix it in with your dog's food at dinnertime. It's packed with B vitamins to support their nervous system, as well as essential amino acids l-theanine and l-tryptophan, which trigger the release of serotonin for a naturally calming effect.
The dose you give your dog depends on their weight. It's recommended that small dogs weighing less than ten kilograms have no more than half a capsule, while much bigger dogs weighing 55-70 kilograms can have three capsules, though not more often than twice in any 24-hour period.
Customer reviews
Product reviews are filtered by language.
The following reviews are available in English.
Life savers!

Our dog has the start of dementia and was keeping us up most of the night but since taking these it has been a miracle!

Works well.

Our very aged large dog 7 stone! often has poor nights. 2 of these Calmex capsules hidden as best we can in a lump of chicken! do the trick. Just bought another big box of them. So, what more can I say......other than perhaps I should try them myself??

Pleased with deal.

Very happy to be offered 15% discount....so increased my usual order as a result

Worth giving it a go

Calmex was delivered quickly by Medic-animal and when I rang Medic-animal with a question the vet was really very helpful. I think the product helped calm my dog down a bit but next time I'll give 2 tablets instead of 1 as he's at the upper end of the weight to tablet ratio and I understand this is OK. Optimum time to give tablet is 3 hours before the main stress factor. I'd prefer to give Calmex over Valerian so will use in the future.

For dogs under 10kg the dosage is half a capsule this entails breaking open a capsule and dividing the powder inside into 2 equal portions. It then states can be sprinkled over food however my dog rejected any and all foods I tried it on. I therefore believer this is unsuitable for this purpose.