Skip to content
Skip to navigation menu
Cazitel Plus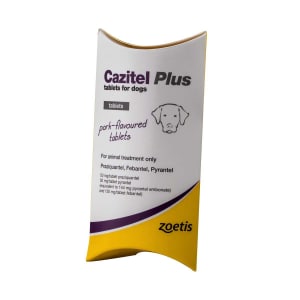 Product details
Please be aware that this medicine can only be supplied for a maximum of one year treatment per animal.

Cazitel Plus Tablets are indicated for the treatment of mixed infections by nematodes and cestodes of the following species in dogs:
Nematodes:
Ascarids: Toxocara canis, Toxascaris leonina (adult and late immature forms).
Hookworms: Uncinaria stenocephala, Ancylostoma caninum (adults).
Whipworms: Trichuris vulpis (adults).
Cestodes:
Tapeworms: Echinococcus species, (E. granulosus, E. multilocularis), Taenia species, (T. hydatigena, T. pisiformis, T. taeniformis), Dipylidium caninum (adult and immature forms).
Cazitel Plus Worming Tablets can be given directly to your dog or disguised in food. Available in pork flavour.
Dosage and administration
For oral administration only.
The recommended dose rates are 15 mg/kg bodyweight febantel, 5 mg/kg pyrantel (equivalent to 14.4 mg/kg pyrantel embonate) and 5 mg/kg praziquantel. This is equivalent to 1 tablet per 10 kg bodyweight. The tablets can be given directly to the dog or disguised in food. No starvation is needed before or after treatment. To ensure administration of a correct dose, bodyweight should be determined as accurately as possible.
Dosage table (guide):
Bodyweight (kg) Tablets
½ - 2 ¼
3 - 5 ½
6 - 10 1
11 - 15 1½
16 - 20 2
21 - 25 2½
26 - 30 3
31 - 35 3½
36 - 40 4
> 40 1 tablet per 10 kg
If there is a risk of re-infestation, the advice of a veterinarian should be sought regarding the need for and the frequency of repeat administration.
To ensure that you read the most up to date information about this product, please check the VMD's Product Information Database.
Legal category: NFA_VPS | Product Information Database
Customer reviews
Product reviews are filtered by language.
The following reviews are available in English.
Cazitel Plus

Great product, thank you

Spot on

Easy to use and price is good

Cazaten woorming tablets

Excellent product thanks from Margaret

Cazitel plus

I have used Cazitel plus dogs for 4 years with no side effects, it just does it's job, and does it well. I wrap the tablets in cheese, and "Gulp" it gone. Excellent product, and its approved by my vet.

Great

Worked straight away