Skip to content
Skip to navigation menu
You have setup the following Repeat Order: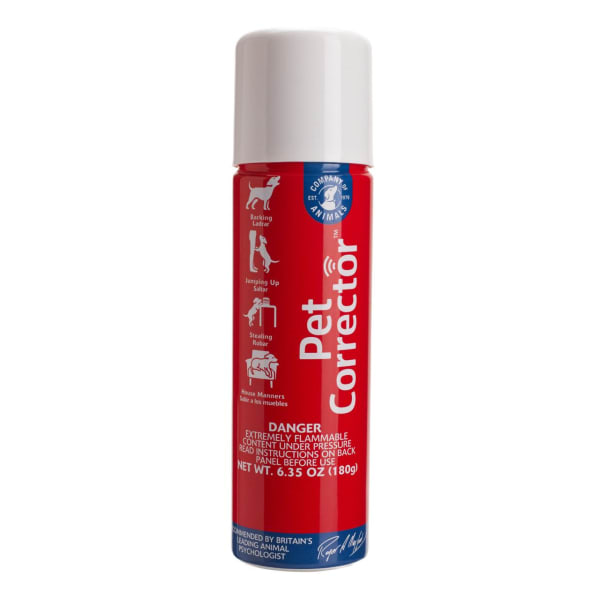 Company of Animals Pet Corrector Dog Training Spray
Company of Animals Pet Corrector Dog Training Spray
Company of Animals Pet Corrector Dog Training Spray
Back in stock notification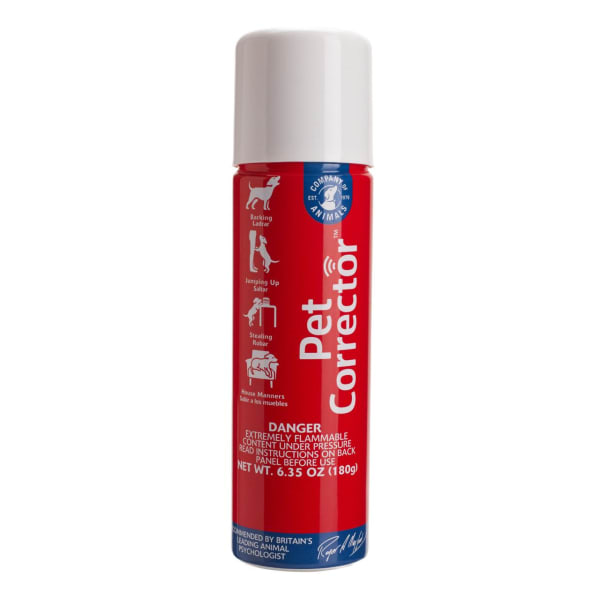 Company of Animals Pet Corrector Dog Training Spray
Company of Animals Pet Corrector Dog Training Spray
Enter your name and email address below then select which items you would like to be notified of when available.
Product details
If you're at your wits' end because traditional training doesn't stop your dog from constantly barking, jumping up or biting, the Pet Corrector can curb the behaviour in the short- and long-term.
How it works
Spray the can to release a hissing noise that dogs associate with danger. The spray will make them stop doing what they're doing and can be used alongside traditional training to curb future undesirable behaviour.
To use, release a quick, short spray more than one metre away from your dog to avoid damaging their sensitive ears. Only use Pet Corrector during misbehaviour and remember to reward good actions with praise and/or treats. (Put the Pet Corrector can away first.) To avoid distressing your dog, fix one behaviour at a time – such as biting – before moving on to any others.
Key benefits
last-resort product if traditional training doesn't work
simply spray the can to emit sound
hissing noise can stop unwanted behaviour in short- and long-term
use with moderation so as not to distress your pet
dogs associate the sound with danger and stop misbehaving
When to use it
If training with praise and treats doesn't stop your dog's unwanted behaviour, you can use this product with moderation. To interrupt your pet's behaviour, the spray makes a sound that they associate with danger, which can frighten and leave them anxious.
Constant barking or chewing could be down to lack of physical or mental stimulation. Try playing games like fetch or tug of war before using this product. Behavioural issues may also be caused by an underlying health problem, which your vet will be able to diagnose. You should never use this product on young puppies, anxious pets, rescue dogs or hard-of-hearing animals.
Customer reviews
Product reviews are filtered by language.
The following reviews are available in English.
Perfect training aid

This is the second time I have brought this pet corrector as it works wonders. It has got to the point of me just showing my dog the can for him to do as he is told. First used this to stop barking at the TV, one quick blast of air behind the head about 18inchs away made him stop. After doing this few times over 3 days stopped the barking, still use it for others things, but the larger can is the one to buy as it last so much longer, so better value.

pet corrector

DETAILS REVIEWS The Pet Corrector emits a hiss of air which mimics this sound of animals such as snakes and insects, to interrupt undesirable behaviours in dogs such as jumping up or stealing. Situations suitable for the Pet Corrector: Excessive barking Place avoidance Jumping up Stealing/Chewing The Pet Corrector comes with a detailed training guide which includes helpful training tips and key dos and don'ts. It is important that the Pet Corrector is used responsibly and that alternative desirable behaviours are rewarded. The Pet Corrector can easily be slipped into a pocket or the specifically designed holster.

Pet Corrector saved my Jack Russell's life after a much larger dog got hold of him and wouldn't let go. One squirt and the dog let go. Kicking and shouting failed.

We were introduced to this by a dog trainer whom we contacted for help when one of our dogs attacked the other. The spray worked like magic, it seemed to break through the rage and enabled us to take control of the situation. We no longer have the same problems but one of our Dalmatians barks incessantly at people coming to the door, passing cyclists, tractors, horses, clouds, insects.... I've found that just telling him enough and showing him the can stops him in his tracks.

Excellent for training my 4 month lurcher puppy various things like jumping up, jumping on furniture, chewing etc. I'm about to purchase another!