Skip to content
Skip to navigation menu
CortaFlex Powder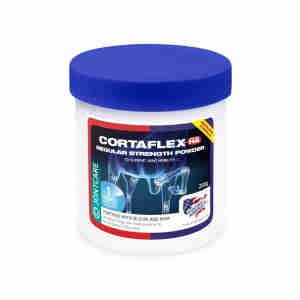 Rollover image to zoom
Product details
Cortaflex Powder for maintaining joint mobility. The No 1 joint nutraceutical - a unique formulation of the fefined isolates of Chondroitin Sulphate and Glucosamine Sulphate, in a special blend designed to achieve exceptional assimilation and effectiveness in the promotion and maintenance of healthy joints. Also contains Methylsulphonylmethane (M.S.M.) to assist the passage through the cell walls.



Ingredients
Dehydrated Alfalfa Meal, Isolated Soy Protein, Dextrose, Avocado/Soybean Unsaponifiables
(ASU), Glycine, Glutamine, Chondroitin Sulphate, Glucuronic Acid, Proline, Glutamic Acid, Hyaluronic Acid,
Ammonium Propionate (preservative), Vegetable Oil, Monosilicic Acid, Aspartic Acid, Arginine, Histidine,
Manganese Sulphate, Pyridoxine HCl (Vitamin B6), Ascorbic Acid (Vitamin C), Sulphur, Alanine, Serine,
Valine, Isoleucine, Copper Sulphate 5 mg/kg (added).