Skip to content
Skip to navigation menu
Dog Rocks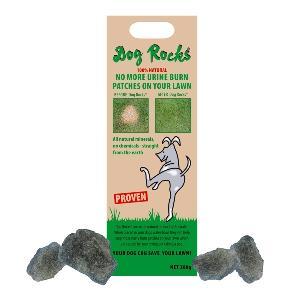 Product details
Pop some Dog Rocks in your garden and your grass will be greener and healthier, without disturbing your pet's loo habits.
What it's for
When your dog (or cat) pees in the garden it's good news for your floors, but trouble for your lawn. Their meat-heavy diet makes their urine high in acid, which can transform green grass into a sad and scorched wasteland. Dog Rocks don't do anything to change the acid levels in your pet's urine, but do absorb harmful stuff while adding nutrients to make your garden healthier.
The product is all-natural and shouldn't cause any harm, but it's important to keep an eye out for any changes after you start using Dog Rocks. If your dog starts to experience physical symptoms like swelling or sickness, they may be suffering a reaction. If you do notice anything strange going on, speak to your vet for advice.
Key benefits
doesn't change the acid levels in your dog's urine
can be used by cats too
stops dog urine scorching your lawn
made from all-natural ingredients
simply dissolve in your pet's water bowl
How it works
Dog Rocks help to reduce the damage caused to your lawn when your dog or cat use it as a toilet. They can be dissolved in your dog or cat's water bowl and work naturally to reduce the burning effect. It can be tricky to grow grass over scorched areas, which is why Dog Rocks work to stop damage happening in the first place. They're made from natural rock and work by absorbing tin (and other harmful elements) from your pet's urine. They also contain extra nutrients that can help grass to grow strong and healthy.
Customer reviews
Product reviews are filtered by language.
The following reviews are available in English.
Dog Rocks

I have been using Dog Rocks long before the Pet Supermarket/ Pets at home stocked them, about 10 years when the only place to get them was direct from British stockist. Whilst they are not 100% they are a big improvement. I dread it when my friends visit with their dogs and my lawn gets burnt. I have recommended them to lots of people with bitches. It will take a couple of weeks until an improvement is noticed.

Greener grass

Our burn Marks on the lawn have completely gone. Grass where they were has come through a lighter green but with a few more cuts in sure will blend in again. Highly recommend

Dog rocks for your garden

Dog rocks are fab and fast delivery. Really look after your lawn

Dog rocks

I have been using these in my dogs waterbowl for a few years now and must say my grass is less patchy

Alan Robinson

Dog rocks Found that they stop the grass burns and will continue to use them