Skip to content
Skip to navigation menu
Dorwest Garlic & Fenugreek Tablets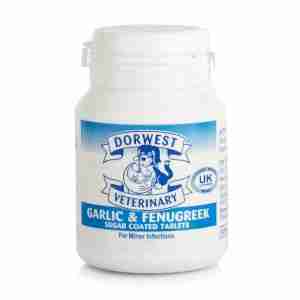 Product details
Dorwest Garlic & Fenugreek tablets for cats and dogs is a licensed herbal medicine for the symptomatic relief of skin conditions, arthritis, coughs and minor infections in dogs and cats.

Garlic has antibiotic, antiseptic and anti-viral properties confirmed by modern scientific studies, and has anti-inflammatory compounds. Fenugreek seeds also contain anti inflammatory properties. It is used to relieve the symptoms of minor infections such as skin conditions, eczema, cystitis and coughs, this stronger garlic tablet is also used in the treatment of arthritis due to its anti-inflammatory properties. Frequently used in conjunction with Mixed Vegetable Tablets with which it has a synergy. When given regularly at the maintenance dose Garlic & Fenugreek Tablets increase resistance to infections by stimulating the immune system.
To ensure that you read the most up to date information about this product, please check the VMD's Product Information Database.
Legal category: AVM_GSL | Product Information Database
Customer reviews
We're sorry but there are no reviews of this product in English.