Skip to content
Skip to navigation menu
Dorwest Valerian Organic Compound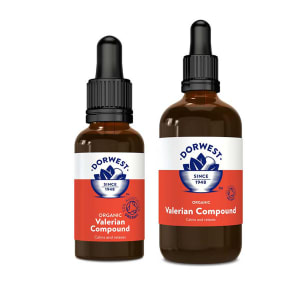 Product details
The full strength extracts in Dorwest Valerian Compound provide a concentration that is economical and easy to administer. This product may act quickly to calm and control hyperactive or anxious dogs and cats. Dorwest Valerian Compound is quickly absorbed into the system and so may be useful to give on those occasions when 'over the top' behaviour might be a problem, such as thunderstorms, gunfire, visits to the vet etc. It can be dropped directly into the mouth or onto food. Cats find the smell of Organic Valerian Compound particularly attractive and if a few drops are placed on the bedding may show a reduction in anxiety and even unmanageable cats become calmer and easier to handle.
Please contact you vet for advise on the use of this product or alternatively contact our Pharmacy department and ask to speak to one of our qualified vets who will be more than happy to advise on the most suitable solution for your pet.
Customer reviews
Product reviews are filtered by language.
The following reviews are available in English.
Compound

This is brilliant!I never thought my cat would go for this but she is great ,more calmer,eating better,and back to my Cassie,plus she's getting old now so it's more important to give her vitamins.

Dorwest valerian compound

I give this directly into my dogs mouth when fireworks start.he is absolutley terrified and within 20 mins he starts calming down.totally recommend this.

totally chilled my cat out, only needed it for a few days

I got this for my big boy cat, as he was super stressed by foxes in the garden, so kept spraying in the house, then started attacking his sister- Since giving him a few small doses of this he has chilled right out, back to normal self, hanging out with his sister again, no more spraying- I only used it a few days, half dose, smell disgusting but he doesnt seem bothered, just add to his favourite wet food

Our vet recommended trying these for one of our cats who had become very excitable and clingy, especially in waking us up at 3am every morning wanting attention! After trying everything else we agreed to try these rather than tranquilise him with drugs and I have been amazed how well they work! He h