Skip to content
Skip to navigation menu
Drontal Dog Tasty Bone Tablet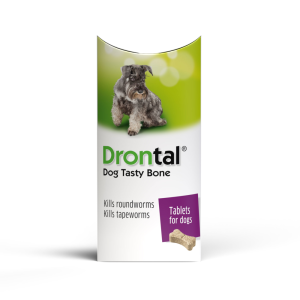 Product details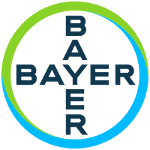 Trusted Supplier
Drontal Dog Tasty Bone Tablets kill the most common types of worms in your dog's tummy.
What it's for
You've not done anything wrong if your dog has worms. It's really easy for them to pick them up: for example, if they accidentally swallow an infected flea after licking themselves. If your dog has a worm you might see them being sick, having diarrhoea, or seeming more tired than normal (that's a sign of anaemia, which can be caused by gut parasites). De-worming your dog regularly keeps these nasty worms and other parasites away. You should de-worm your adult dog every three months, but puppies need to be wormed more often. Worm puppies every couple of weeks when they're small, and monthly until they reach three months old.
Key benefits
acts fasts against the most common types of tapeworm and roundworm
fun shape and yummy flavour so your dog will want to eat them
can be given on their own or put into food
can be used as part of your usual worming schedule.
How it works
Drontal Dog Tasty Bone Tablets fight against parasites like tapeworms and roundworms which live in your dog's guts. The worms can make your dog sick by taking away the vitamins and nutrition they would normally get from food. The active ingredients are praziquantel (the only tapeworm fighting ingredient approved by the Pet Travel Scheme (PETS) certification), pyrantel embonate and febantel. They work right away, killing off the nasties and letting your dog get back to normal.
The tablets can be used for routine worming. Give your dog a single dose once every three months. The fun bone shape and yummy meat flavour are super appealing for dogs, so you don't need to hide them in food. This means you don't need to wait until dinnertime to de-worm your pet.
**Prescription needed for orders from Denmark**
**PRICE SHOWN FOR 1 TABLET ONLY**
**Please note this product replaces Drontal Plus Flavour Dog Worming Tablets**
To ensure that you read the most up to date information about this product, please check the VMD's Product Information Database.
Legal category: NFA_VPS | Product Information Database
Additional Information
Puppies and small dogs
| | |
| --- | --- |
| Weight kg | Tablets |
| 2-5 | 1/2 |
| 5-10 | 1 |
Dosage Guide: Medium dogs
| | |
| --- | --- |
| Weight kg | Tablets |
| 10-15 | 1 1/2 |
| 10-20 | 2 |
| 20-25 | 2 1/2 |
| 25-30 | 3 |
Dosage Guide: Large dogs
| | |
| --- | --- |
| Weight kg | Tablets |
| 30-35 | 3 1/2 |
| 35-40 | 4 |
Dosage
| | |
| --- | --- |
| Body weight (kg) | Tablet quantity |
| 2-5 | ½ |
| >5-10 | 1 |
| >10-15 | 1 ½ |
| >15-20 | 2 |
For each additional 5 kg body weight, administer an additional half tablet.
Administration:
The tablets can be administered with or without food.
Tablets should be given as a single administration.
The advice of a veterinarian should be sought regarding the need for and frequency of repeat treatment.
Not for use in dogs weighing less than 2 kg.
Customer reviews
Product reviews are filtered by language.
The following reviews are available in English.
NOT TASTY

I eventually get my border terrier to swallow it down, well most of it, it needs a sugar coating, no point in it being bone shaped that's for sure. Does the job though.

Drontal for dogs

Just a bit expensive, but Pet Supermarket prices are no worse often better than anywhere else. I find my dog retriever will only eat these if I coat them in something she really likes normally cheese It's a shame you have to throw away bits of tablet as they decompose quickly.

Drontal worming

Great product first time i got them me dog took it straight away next time different story

Highly recommended

Excellent product at an affordable price

Does the job!

My dog will take these with no problems.