Skip to content
Skip to navigation menu
Effipro Cat Spot On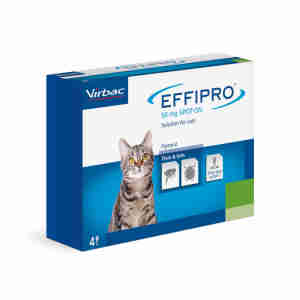 Rollover image to zoom
Product details
Effipro Cat Spot On kills fleas and ticks, and carries on protecting your cat even after treatment.
How it works
Effipro Cat Spot On is quick and effective, killing fleas within 24 hours (and ticks in 48) with just one treatment.
The pipette is clear, so you can see all of the treatment has been used and is totally painless for your cat. You simply squeeze the pipette onto the skin at the back of your cat's head. Putting the treatment here means they can't lick it off (always a good thing!) and the natural oils in your pet's skin will carry the medicine across their body.
Once you've put it on, the treatment will protect your cat from any fleas or ticks for up to two weeks.
Key benefits
kills fleas in 24 hours
easy to use pipette makes applying the treatment easy for you and painless for your cat
kills ticks in 48 hours
In the absence of safety studies, the minimum treatment interval is 4 weeks
What it's for
Your cat probably loves poking around the nooks and crannies in the garden, and that means they can easily pick up fleas. They might also pick up ticks or fleas from other cats in the neighbourhood.
Fleas and ticks can be a real pain for your cat – they constantly bite and lay eggs on your cat's skin. Fleas love to jump too, so they could infect your house. You can tell your cat has fleas if they start grooming much more often, scratching a lot, or have red, irritated patches of skin.
The sooner you treat a flea infestation the better, as it not only makes your cat feel much happier, it also stops them spreading to any other pets you have.
To ensure that you read the most up to date information about this product, please check the VMD's Product Information Database.
Legal category: NFA_VPS | Effipro Cat Spot On
Ingredients
One 0.5ml pipette contains: Fipronil (50 mg), Butylhydroxyanisole (E320), Butylhydroxytoluene (E321).
Dosage
1 x 0.5ml pipette - one flea and tick treatment for one cat. This dosage should be repeated every 4 weeks for maximum protection.
Customer reviews
Product reviews are filtered by language.
The following reviews are available in English.
Great value

Always use this works with no side effects and considerable cheaper than buying from the vets. Definitely recommend.

Effipro

Excellent product. Have 4 cats and only use this product

Effipro

always Use this, easy to apply and works

Effipro flea drops

Really happy with this treatment l always use it on my 3 cats

Effipro

I have always used effipro on all my cats and I find it works well for fleas and ticks. Wouldn't use anything else