Skip to content
Skip to navigation menu
Eukanuba Breed Specific Boxer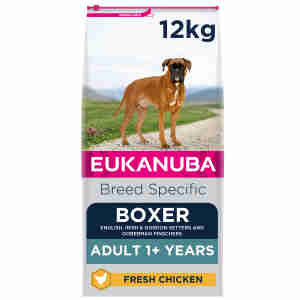 Rollover image to zoom
Product details
Boxer owners know their dogs are special – but did you know that this also extends to their diet? Help your pet be their best self with this Eukanuba breed-specific boxer food, specially formulated to meet the needs of adult boxers aged one year and up.
What it's for
Adult boxers are big dogs with big needs, so they need a little extra punch from their dinner. Since they're more prone to heart conditions like ARVC (in which normal heart muscle is replaced with fatty tissue), it's extra important to include L-carnitine and taurine in their diet. They also need bone-supporting ingredients to help with the extra pressure that being a big breed puts on their joints.
Although this food is designed for boxers, other breeds can benefit from the recipe too; it's also recommended for dogs with similar needs, like pinschers or setters. If you have any questions about your pet's particular needs, speak to a vet for more advice.
Key benefits
special recipe designed for boxers
contains L-carnitine and taurine to help keep hearts healthy
contains lots of immunity-boosting ingredients
supports healthy bones and joints
includes natural dental exfoliant to clean teeth as dogs chew
also recommended for pinschers and setters
How it works
It's important for boxer owners to know the unique challenges that come with this beautiful breed, but dietary management doesn't have to be difficult. This complete dog food contains lots of fat-burning ingredients like L-carnitine and taurine to keep your pet's heart and body in top condition, as well as glucosamine and sulphates that help their joints support those powerful muscles.
This food can be fed to boxers, pinschers and setters aged one year and up. Introduce it gradually over the course of a week as you replace their old food, so their tummies have time to get used to it, and always make sure fresh drinking water is available.
Ingredients
Ingredients

Chicken (>24%), maize, wheat, animal fat, sorghum, barley, poultry meal, dried beet pulp, chicken digest, dried whole egg, brewer's dried yeast, potassium chloride, salt, sodium hexametaphosphate, fish oil, linseed, DL-Methionine, glucosamine hydrochloride, chondroitin sulphate.
Analysis:
Crude Protein:26. 0%, Crude Oil:15. 0%, Crude Ash:7. 5%, Crude Fibre:2. 5%, Moisture:8. 0%, Calcium:1. 20%, Phosphorus P:0. 95%
Additives per kg:
Vitamin A:12000 IU, Vitamin D‡:750 IU, Vitamin E (à-tocopherol):200 mg, Copper as Copper II Sulphate:25 mg, L-Carnitine:50 mg, ß-carotene:20 mg
Dosage
Eukanuba Breed Nutrition Boxer Dog Food
When feeding for the first time gradually introduce Eukanuba into your dog's diet over a period of 4 days. We recommend feeding your dog twice a day. Divide the daily amount shown in the chart by the number of meals. Your dog may eat more or less depending on age, temperament and activity level.

For feeding guidelines, see feeding chart.

Always have plenty of fresh water available for your dog to drink.


| | |
| --- | --- |
| Body weight | Grams per day |
|   |   |
| 15kg | 150 |
| 20kg | 180 |
| 25kg | 210 |
| 30kg | 240 |
| 35kg | 265 |
| 40kg | 290 |
| 45kg | 310 |
| 50kg | 335 |
| 55kg | 355 |
| 60kg | 380 |
Feeding The Correct Amount
It is important to remember however that these figures are guidelines only, and there are several factors to be taken into account when assessing your pet's nutritional requirements : -
Activity level
Temperament (stressed animals burn off more calories than relaxed ones)
Metabolism (every animal is an individual with his or her own speed of metabolism; this means that 2 dogs of the same age, breed and weight could have different daily calorie requirements)
In order to provide the correct portions when feeding your dog or cat, it is also helpful to assess your pet's appetite, visual appearance and stools. Whilst poo watching does not sound particularly pleasant, it is one of the best indicators of health. Increased frequency of passing faeces, production of large quantities of stools of loose motions are often frequent signs that an animal is receiving more food than he or she requires.
It is important to obtain an accurate weight for your cat or dog, and also to weigh out the food. Guessing on both accounts gives a large margin of error.
Changing Food Brands
For a successful diet change, we recommend following the feeding pattern below. The daily feeding amount should be split into two equal amounts and the proportions of new food increased over the first week as illustrated.

TOP TIPS: For those dogs who do not make eating a priority, here are some additional points:
- Reduce the number of tit-bits given during the introductory period
- If your dog has been used to eating wet food, moisten with warm water.
DAY 1-2

75% Original Diet
25% New Food
DAY 3-4

50% Original Diet
50% New Food
DAY 5-6

25% Original Diet
75% New Food
Customer reviews
Product reviews are filtered by language.
The following reviews are available in English.
Eukanuba Boxer

Have always fed my dog on this and he is fit and healthy a living testatment to the product! Free delivery is great to as no lugging it back from the shops.

Because I love my dog I only want to feed her the best, that's why I choose eukanuba.

With the quality of Eukanuba Boxer Breed that my dog loves and the added value of a 10 reduction voucher code and to top that I got free delivery what more can you ask for without getting the food for free, although that would be nice too.