Skip to content
Skip to navigation menu
Eukanuba Breed Specific Jack Russell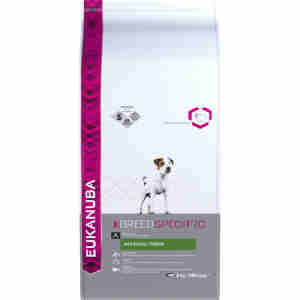 Rollover image to zoom
Product details
Eukanuba Jack Russell Terrier is a complete and balanced daily food made with high quality animal based protein. It is designed to support the Jack Russell Terriers active life style, promote digestive health and help maintain strong and healthy teeth.
Dental +: Extra essential dental minerals to help maintain strong and healthy teeth
Healthy Weight: Tailored level of L-Carnitine to help naturally burn fat
Optimal Digestion +: Higher level of Prebiotics* to help promote digestive health (*vs. Eukanuba Adult Small Breed).
3D Denatadefense - Promotes healthy teeth by reducing tartar build-up Crunchy kibbles help remove plaque and a special combination of minerals helps keep tartar-forming materials from depositing on the teeth
Ingredients
INGREDIENTS - ANALYSIS
Ingredients
Chicken (>30%), maize, wheat, animal fat, poultry meal, rice, sorghum, barley, dried beet pulp, chicken digest, dried whole egg, brewer's dried yeast, fish oil, potassium chloride, sodium chloride, sodium hexametaphosphate, linseed, fructooligosaccharides, calcium carbonate, DL-Methionine. Contains EC permitted antioxidants (see batch code number on package). No colorants, flavourings or preservatives added.

Analysis:
Protein: 28. 0%, Moisture: 8. 0%, Oils and Fats: 18. 0%, Fibre: 2. 5%, Ash: 7. 5%, Calcium: 1. 25%, Phosphorus P: 1. 05%

Additives per kg:
Vitamin E (?-tocopherol): 200mg/kg, Copper: 25mg/kg, L-Carnitine: 50mg/kg, ?-carotene: 1mg/kg
Dosage
Eukanuba Breed Nutrition Jack Russell Dog Food
When feeding for the first time gradually introduce Eukanuba into your dog's diet over a period of 4 days. We recommend feeding your dog twice a day. Divide the daily amount shown in the chart by the number of meals. Your dog may eat more or less depending on age, temperament and activity level.

For feeding guidelines, see feeding chart.

Always have plenty of fresh water available for your dog to drink.


| | |
| --- | --- |
| Body weight | Grams per day |
|   |   |
| 4kg | 55 |
| 6kg | 75 |
| 7kg | 85 |
| 8kg | 90 |
| 10kg | 105 |
Feeding The Correct Amount
It is important to remember however that these figures are guidelines only, and there are several factors to be taken into account when assessing your pet's nutritional requirements : -
Activity level
Temperament (stressed animals burn off more calories than relaxed ones)
Metabolism (every animal is an individual with his or her own speed of metabolism; this means that 2 dogs of the same age, breed and weight could have different daily calorie requirements)
In order to provide the correct portions when feeding your dog or cat, it is also helpful to assess your pet's appetite, visual appearance and stools. Whilst poo watching does not sound particularly pleasant, it is one of the best indicators of health. Increased frequency of passing faeces, production of large quantities of stools of loose motions are often frequent signs that an animal is receiving more food than he or she requires.
It is important to obtain an accurate weight for your cat or dog, and also to weigh out the food. Guessing on both accounts gives a large margin of error.
Changing Food Brands
For a successful diet change, we recommend following the feeding pattern below. The daily feeding amount should be split into two equal amounts and the proportions of new food increased over the first week as illustrated.

TOP TIPS: For those dogs who do not make eating a priority, here are some additional points:
- Reduce the number of tit-bits given during the introductory period
- If your dog has been used to eating wet food, moisten with warm water.
DAY 1-2

75% Original Diet
25% New Food
DAY 3-4

50% Original Diet
50% New Food
DAY 5-6

25% Original Diet
75% New Food
Customer reviews
Product reviews are filtered by language.
The following reviews are available in English.
Good service and excellent product.

Excellent service, fast delivery. The product Eukanuba is the best for our healthy Jacks.

Happy Jacks

Three Jack Russells, can be fussy with what they eat but this mixture seems to satisfy them all, three cheers.

I have used Eukanuba for several years and have had good results. It is the only food he will eat dry. Even though it is a little expensive, since he eats it dry, it is worth it. People Should read carefully labels with ingredients!So far Eucanuba is for me on of the best and most trusted pet food making company on market compared to other brands!

I have three Parsons Jack Russell X Jack Russell dogs. Woody the mum is a Parsons and very active, her sons Buster and Charlie are slightly shorter also very active. Charlie was putting on weight and his teeth were worse than his mum's & brothers so the vet suggested a Jack Russell specific food. I found this product on this site and my dogs have never been healthier!!

this dry food is perfect for my little jack russell she loves it