Skip to content
Skip to navigation menu
Eukanuba Dog Veterinary Diet Restricted Calorie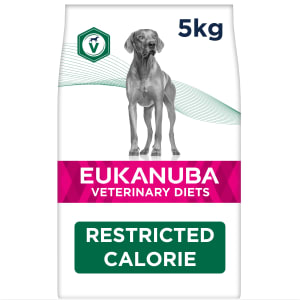 Product details
Eukanuba Veterinary Diets Canine
We're working with veterinarians, nutritionists, and other experts to advance our more than 60 years of experience and knowledge of pet well-being. We are dedicated to improving our existing products and creating new ones that truly make a difference in the lifelong health of dogs and cats.
We have exceptional science-based nutrition, high-quality ingredients, and tailored life-stage formulas. You can be confident that Iams and Eukanuba will provide only our best nutrition for your pet.
Eukanuba Prescription Diet pet food is a therapeutic nutrition and therefore is only available from your vet or PET SUPERMARKET.
No prescription is required to purchase Eukanuba Canine Prescription from PET SUPERMARKET.
Eukanuba Veterinary Diets Canine Restricted Calorie for Dogs
Restricted calorie food for dogs to encourage weight loss. Suitable for all breeds.
Eukanuba Restricted Calorie Dog is formulated to help your dog safely reach and maintain their optimal weight, promoting entire body health and helping to restore energy and mobility. How? These products use patented carbohydrates and specialized ingredients such as L-Carnitine, so your pet can feel full while consuming fewer calories. The result is that your dog can maintain muscle mass while losing fat.

Feeding Eukanuba Veterinary Diets Restricted-Calorie™ formula is a great way to achieve the appropriate weight. This formula utilizes the Eukanuba Optimum Body Approach™ for trimming fat and maintaining muscle, and promotes gradual, sensible weight-loss. Restricted-Calorie™ is the ideal weight-loss formula for obese dogs or cats and should be used in combination with behavioural management and, where appropriate, an increase in physical activity. Individual target weight is determined depending on pet and breed. When dieting, the optimal weight loss is 1 to 3% weekly. For best results both diet and a sensible exercise regime should be established.

With Eukanuba Optimum Body Approach™, you can -
Trim fat but retain muscle mass to keep your pet in peak playing condition with ingredients L-Carnitine and Chromium Tripicolinate
Satisfy your pet's hunger and help maintain steady blood sugar levels with a carbohydrate blend of grain sorghum and corn (cat) or barley (dog)
Help increase resistance to weigh gain
Promote good dental health during and after meals with the Eukanuba Dental Defence System™, a tartar-reducing system that benefits the whole mouth - not just chewing surfaces.
Key Benefits
Low energy - Weight loss by reducing caloric intake
Low fibre level - Optimal digestion, good stool quality, and low stool volume
L-carnitine - Stimulates ß-oxidation and reduction of body fat, while preserving lean muscle tissue
Carbohydrate blend (barley and sorghum) - Helps reduce the postprandial blood glucose surge
Glucosamine and chondroitin sulphate * - Support healthy cartilage production, joint health and mobility.
Indications
Obesity
Growth
Gestation
Lactation
Contraindications
Underweight
All Eukanuba super premium pet products come with a 100% satisfaction guaranteed or your money back, simply return your purchase back to PET SUPERMARKET®*
*Please note that you will be responsible for the cost of returning the product back to PET SUPERMARKET® and you will be eligible for a full refund of the price paid for the food. If you received free delivery with your order, and the refund brings your order total under the PET SUPERMARKET® free delivery threshold you will be charged at the prevailing rate as per our postage tariff on the day on which you placed your order.
Ingredients
Ingredients
Eukanuba Veterinary Diets Canine Restricted Calorie Dry - Maize grits, Dried Chicken and Turkey, maize, sorghum, barley, dried beet pulp, chicken digest, fish meal, dried whole egg, animal fat, brewer's dried yeast, potassium chloride, sodium hexametaphosphate, fructooligosaccharides, linseed, glucosamine (475mg/kg), chondroitin sulphate (45mg/kg)
Eukanuba Veterinary Diets Canine Restricted Calorie Cans- Chicken, white fish, chicken liver, rice, maize grits,
chicken byproducts, beef by-products, fish meal, dried whole egg, dried beet pulp, potassium chloride, linseed, calcium carbonate, monosodium phosphate, sodium chloride
Customer reviews
Product reviews are filtered by language.
The following reviews are available in English.
Very satisfied

Very pleased with everything I have ordered and would recommend Pet Supermarket to anyone.

eukanuba veterinary restricted calorie dog food

My dog has only recently started this food and as I have taken time to mix it gradually in with his other food it is a bit early to see if he has lost any weight yet. He does like the food and eats it all up which is good as he can be fussy. The other thing I like about this food is that there is not a lot of poo. When he was on a Purina veterinary diet food he seemed to poo all day. I also like the fact that there is stuff added to help keep the teeth clean. So far so good.

Happy Owner-Happy Dog

I have bought from Pet Supermarket before and am always pleased with the service I receive. Products are always good value and are delivered well packaged and in good time.

I am delighted with the service I received I would recommend to anyone

Products I buy are very good and I have yet to find any cheaper