Skip to content
Skip to navigation menu
Eukanuba Puppy Small Breed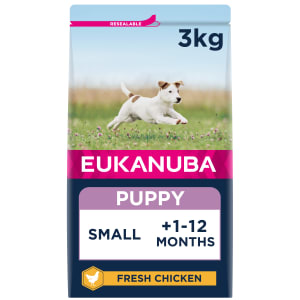 Product details
Eukanuba
Customized nutrition brings out the greatness in your dog. Since 1969, Eukanuba continues to develop premium dog food formulas designed to meet the needs of all dog breeds. We believe dogs evolved from carnivores and should be fed accordingly. That's why we use high-quality animal proteins, mainly chicken or lamb – not vegetables - as the main source of protein in Eukanuba dog food. It's how we believe nature intended dogs to eat.
Eukanuba Puppy Food
100% complete and balanced everyday nutrition
Eukanuba provides the optimal daily amount of protein, fat, carbohydrates, important vitamins and minerals for the health and well-being of your dog. Eukanuba dog food contains high-quality ingredients and high levels of animal-based protein.
Eukanuba Puppy & Junior Small Breed Dog Food
100% complete and balanced nutrition for small breed puppies, reaching an adult weight of 10kg or less.
Small breed puppies burn more calories and need more energy per kg of bodyweight than larger breed puppies. This Eukanuba diet delivers The optimal levels of protein, fat and carbohydrates to meet that need. It provides all important vitamins and minerals necessary for optimal growth. Contains high-quality ingredients and high levels of animal-based protein, with chicken as the number one source.
Rich in Chicken
Also recommended during pregnancy and lactation.

ImmunoHealthSupports the immune system and promotes the daily, natural regeneration of healthy cells. Contains important antioxidants, such as vitamin E


CoatCare
Promotes a thick and shiny coat, supports healthy skin and the natural healing process Contains an optimal balance of Omega-6 and Omega-3 fatty acids


DigestiCare
Promotes a healthy digestive tract and effective nutrient absorption Contains a moderately fermentable fibre (beet pulp)


GlucoseBalance
Helps nutritionally manage normal blood sugar levels after meals Page 1 Product 148, 25 October 2007 Contains special carbohydrate sources


Vitamin Levels
Vitamin levels guaranteed until best before date.


Smarter puppy Contains DHA
For a Smart, Trainable Puppy Formulated with an optimal level of DHA, a key brain building nutrient, to support optimal hearing, vision and brain function Based on a groundbreaking study with puppies and their mothers fed Eukanuba

Eukanuba Puppy & Junior Small Breed Dog Food can often work out cheaper then you may think with a 7. 5kg bag containing 45 days of feeding with an average monthly feeding cost of £22. 45p, based on the average requirement of a 6 month old puppy with a target adult weight of 6kg*

AT EUKANUBA IT'S EASY TO CONNECT WITH OUR EXPERTS.

Whenever you have a question about feeding your cat or dog that's really bothering you, just pick up the phone and call the Eukanuba Care Line. Our advice line is open to everyone, so you can call us about absolutely anything to do with your pet's nutrition, however unusual. Unlike some pet advice lines, the Eukanuba Care Line is free. So, you can call us as often as you need to and even ask to speak to the same adviser if you like.

Eukanuba Care Line 

Speak with a Eukanuba Pet Expert immediately and Call toll-free at 00-800 241 53 414
Hours: Monday – Friday: 9am – 5pm
All Eukanuba super premium pet products come with a 100% satisfaction guaranteed or your money back, simply return your purchase back to PET SUPERMARKET®**
* Based on the recommended manufacturer retail price, and recommended feeding guidelines for a dog with normal activity levels as recommended by the manufacturer.
** Please note that you will be responsible for the cost of returning the product back to Pet Supermarket and you will be eligible for a full refund of the price paid for the food. If you received free delivery with your order, and the refund brings your order total under the Pet-Supermarket free delivery threshold you will be charged at the prevailing rate as per our postage tariff on the day on which you placed your order.
Ingredients
INGREDIENTS - ANALYSIS
Ingredients
Chicken (>30%), maize, wheat, animal fat, poultry meal, dried beet pulp, rice, dried whole egg, chicken digest, fish oil, brewer's dried yeast, potassium chloride, salt, DL-Methionine, marigold extract. [for < 10 kg] Contains EC permitted antioxidant. [for >= 10 kg] Contains EC permitted antioxidant: tocopherols.

Analysis:
Crude Protein:32. 0%, Crude Oil:21. 0%, Crude Ash:7. 5%, Crude Fibre:2. 5%, Moisture:8. 0%, Calcium:1. 40%, Phosphorus P:1. 00%

Additives per kg:
Vitamin A:15000 IU, Vitamin D3:750 IU, Vitamin E (à-tocopherol):200 mg, Copper as Copper II Sulphate:25 mg, ß-carotene:1 mg. No colorants or preservatives added.
Dosage
Eukanuba Puppy & Junior Small Breed Dog Food
When feeding for the first time gradually introduce Eukanuba into your dog's diet over a period of 4 days. We recommend feeding your dog twice a day. Divide the daily amount shown in the chart by the number of meals. Your dog may eat more or less depending on age, temperament and activity level.

For feeding guidelines, see feeding chart.

Always have plenty of fresh water available for your dog to drink.


Grams per day
Months
Body weight
1-3
3-4
5-7
8-12
0. 5kg
50
50
 
 
1kg
85
80
50
 
1. 5kg
110
100
65
35
2kg
135
125
80
45
3kg
175
165
105
55
4kg
 
195
125
70
5kg
 
230
145
80
6kg
 
 
165
90
7kg
 
 
185
100
8kg
 
 
200
110
9kg
 
 
220
115
10kg
 
 
 
125
Best before date, batch code and registration number: see coding on package. Weight statement see front. Store in a cool, dry place
Feeding The Correct Amount
It is important to remember however that these figures are guidelines only, and there are several factors to be taken into account when assessing your pet's nutritional requirements : -
Activity level
Temperament (stressed animals burn off more calories than relaxed ones)
Metabolism (every animal is an individual with his or her own speed of metabolism; this means that 2 dogs of the same age, breed and weight could have different daily calorie requirements)
In order to provide the correct portions when feeding your dog or cat, it is also helpful to assess your pet's appetite, visual appearance and stools. Whilst poo watching does not sound particularly pleasant, it is one of the best indicators of health. Increased frequency of passing faeces, production of large quantities of stools of loose motions are often frequent signs that an animal is receiving more food than he or she requires.
It is important to obtain an accurate weight for your cat or dog, and also to weigh out the food. Guessing on both accounts gives a large margin of error.
Changing Food Brands
For a successful diet change, we recommend following the feeding pattern below. The daily feeding amount should be split into two equal amounts and the proportions of new food increased over the first week as illustrated.

TOP TIPS: For those dogs who do not make eating a priority, here are some additional points:
- Reduce the number of tit-bits given during the introductory period
- If your dog has been used to eating wet food, moisten with warm water.
DAY 1-2

75% Original Diet
25% New Food
DAY 3-4

50% Original Diet
50% New Food
DAY 5-6

25% Original Diet
75% New Food
Customer reviews
Product reviews are filtered by language.
The following reviews are available in English.
Good value, good quality food

I have used Eukanuba for many years now and am very happy with the results. My youngster loves this food (I choose to soak it before feeding) and has plenty of energy and a shiny coat as a result. I'm very pleased with the fast efficient service I have received from this site and would definitely use them again.Their price was competitive compare to other suppliers.

Our pup loves this food, and we love it because he is growing well and is so healthy on it. He's got a lovely shiny coat and lots of energy! I would highly recommend this product to any dog owner, Eukanuba is definitely a brand to trust in.

I have bred dogs for over 10 yrs and have always used Eukanuba puppy and adult food. It is the best food that i feel My puppies & dogs are good weights, have fantastic coats and I feel that this due to the food. i always try to ensure that my puppies new mums and dads use Eukanuba

My puppy is growing well and this is due to this fantastic product. Clean bowl every time. We use the feeding guidelines at the back of the bag .... Very useful for inexperienced puppy owners! We are in safe hands

Puppy loves this food. Clean bowl, no mess,and such good value.