Skip to content
Skip to navigation menu
Eukanuba Veterinary Diet Joint Mobility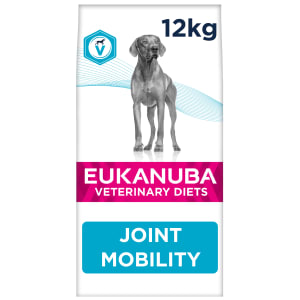 Product details
Eukanuba Veterinary Diets Canine
We're working with veterinarians, nutritionists, and other experts to advance our more than 60 years of experience and knowledge of pet well-being. We are dedicated to improving our existing products and creating new ones that truly make a difference in the lifelong health of dogs and cats.
We have exceptional science-based nutrition, high-quality ingredients, and tailored life-stage formulas. You can be confident that Iams and Eukanuba will provide only our best nutrition for your pet.
Eukanuba Prescription Diet pet food is a therapeutic nutrition and therefore is only available from your vet or PET SUPERMARKET.
No prescription is required to purchase Eukanuba Canine Prescription from PET SUPERMARKET.
Eukanuba Veterinary Diets Canine Joint Mobility for Dogs
Eukanuba Joint Mobility Dog is formulated to help delay aging progression of such joint issues. Nutrition is one vital component of that regimen. This formula has glucosamine and chondroitin sulphate, to provide the building blocks for healthy cartilage; L-Carnitine to help your dog metabolize fat; and micro-crystals to help reduce tartar build-up across the whole mouth during and after meals.
Eukanuba Veterinary Formulas Joint Mobility contains a blend of ingredients to help support joint health, including:
Key Benefit
Glucosamine and chondroitin sulphate (naturally occurring compounds that aid in the nourishment and maintenance of healthy joint cartilage)
Antioxidants are nutrients that help stabilize cells and support the immune system
A balance of omega-6 and omega-3 fatty acids to help nutritionally manage inflammation. (fatty acids are found in ingredients such as fish, chicken, and corn)
Adjusted Omega-6:Omega-3 fatty acid ratio of 5-10 : 1 and GLA (gamma- linolenic acid) - Reduces the inflammatory response and helps to improve skin and coat condition
Animal proteins and L-Carnitine (vitamin-like compound that helps with fat metabolism) to help support lean, active muscles and healthy joints.
DentalCare System - Reduces tartar build up
L-carnitine and reduced energy level - Advanced weight control system to reduce stress on susceptible joints
Glucosamine and chondroitin sulphate - Support healthy cartilage production, joint health and mobility
Optimal levels of high quality protein - Helps to maintain muscle mass, organ and immune function
Carbohydrate blend (barley and sorghum) - Helps reduce the postprandial blood glucose surge
FOS (fructooligosaccharides) and beet pulp - Promote a healthy intestinal environment
Indications
Contraindications
All Eukanuba super premium pet products come with a 100% satisfaction guaranteed or your money back, simply return your purchase back to PET SUPERMARKET®*
*Please note that you will be responsible for the cost of returning the product back to PET SUPERMARKET® and you will be eligible for a full refund of the price paid for the food. If you received free delivery with your order, and the refund brings your order total under the PET SUPERMARKET® free delivery threshold you will be charged at the prevailing rate as per our postage tariff on the day on which you placed your order.
Ingredients
Ingredients
Maize, Dried Chicken and Turkey, wheat, sorghum, barley, fish meal, animal fat, dried beet pulp, dried whole egg, chicken digest, brewer's dried yeast, potassium chloride, sodium chloride, sodium hexametaphosphate, fructooligosaccharides, calcium carbonate, linseed, glucosamine (475mg/kg), marigold extract, chondroitin sulphate (45mg/kg).
Analysis
Protein:27.0%, Fat content:11.0%, Omega-6 fatty acids:1.75%, Omega-3 fatty acids:0.25%, Crude Ash:7.10%, Crude Fibres:2.70%, Moisture:8.00%, Calcium:1.15%, Phosphorus:0.95%
Additives: Vitamin A:70000 IU/kg, Vitamin D3:900 IU/kg, Vitamin E (α-tocopherol):200 mg/kg, L-carnitine:50 mg/kg, β-carotene:1 mg/kg,
Trace elements:
Iron as Ferrous Sulphate, heptahydrate:220 mg/kg, Zinc as Zinc Oxide:184 mg/kg, Manganese as Manganous Oxide:24 mg/kg, Manganese as Manganous Sulphate, monohydrate:18 mg/kg, Copper as Cupric Sulphate, pentahydrate:14 mg/kg, Iodine as Potassium Iodide:3 mg/kg, Cobalt as Basic Cobaltous Carbonate, monohydrate:0.5 mg/kg.
Customer reviews
Product reviews are filtered by language.
The following reviews are available in English.
Good value

I've had my German Shepherd on this for a while now. I've been able to just give her this and no longer need the Youmove tablets as there is a mobility included. She takes this dry and even in her Kong as a treat so good value

The best of the best

This is the best Dogs food we have found for over 20 Years for all of our Dogs from the German Shepherd, Curly Coated Retriever & now our Labrador who is nearly eleven.