Skip to content
Skip to navigation menu
Eukanuba Working & Endurance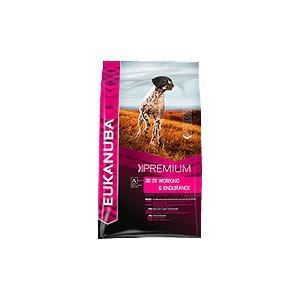 Product details
Eukanuba
Customized nutrition brings out the greatness in your dog. Since 1969, Eukanuba continues to develop premium dog food formulas designed to meet the needs of all dog breeds. We believe dogs evolved from carnivores and should be fed accordingly. That's why we use high-quality animal proteins, mainly chicken or lamb – not vegetables - as the main source of protein in Eukanuba dog food. It's how we believe nature intended dogs to eat.
Eukanuba Dog Food
100% complete and balanced everyday nutrition
Eukanuba provides the optimal daily amount of protein, fat, carbohydrates, important vitamins and minerals for the health and well-being of your dog. Eukanuba dog food contains high-quality ingredients and high levels of animal-based protein.
Eukanuba Performance Working Dog Food
Adult 1+ years

Dogs who have high levels of exercise through working and field trials need more than everyday nutrition to maintain health and stay at peak performance. The same is true for dogs that are pregnant, in lactation or those that are underweight.

Eukanuba Working ; Endurance is complete and balanced high quality nutrition for daily feeding. It is designed to provide sustained levels of energy and nutrients for top performance.

Eukanuba Working ; Endurance is made with:
30 % more protein + 50 % more fat* for extra energy
Dual energy system for fast and sustained energy release
Natural + Prebiotic fibres to maintain a healthy and stable intestinal environment
Cartilage nutrients such as glucosamine and chondroitin sulphate to support healthy joints
Rich in omega-3 fatty acids for good nose and scenting ability

*compared to Adult Maintenance Large Breed
Eukanuba Performance Working Dog Food can often work out cheaper then you may think with a 15kg bag containing 52 days of feeding with an average monthly feeding cost of £30. 39p, based on the average requirement of an adult dog with a target weight of 30kg*
AT EUKANUBA IT'S EASY TO CONNECT WITH OUR EXPERTS.
Whenever you have a question about feeding your cat or dog that's really bothering you, just pick up the phone and call the Eukanuba Care Line. Our advice line is open to everyone, so you can call us about absolutely anything to do with your pet's nutrition, however unusual. Unlike some pet advice lines, the Eukanuba Care Line is free. So, you can call us as often as you need to and even ask to speak to the same adviser if you like.
Eukanuba Care Line 
Speak with a Eukanuba Pet Expert immediately and Call toll-free at 00-800 241 53 414
Hours: Monday – Friday: 9am – 5pm
All Eukanuba super premium pet products come with a 100% satisfaction guaranteed or your money back, simply return your purchase back to PET SUPERMARKET®**
* Based on the recommended manufacturer retail price, and recommended feeding guidelines for a dog with normal activity levels as recommended by the manufacturer.
** Please note that you will be responsible for the cost of returning the product back to Pet Supermarket and you will be eligible for a full refund of the price paid for the food. If you received free delivery with your order, and the refund brings your order total under the Pet-Supermarket free delivery threshold you will be charged at the prevailing rate as per our postage tariff on the day on which you placed your order.
Ingredients
INGREDIENTS - ANALYSIS
Ingredients
Chicken (>30%), maize, wheat, animal fat, poultry meal, rice, sorghum, dried beet pulp, dried whole egg, chicken digest, fish oil, brewer's dried yeast, potassium chloride, salt, linseed, sodium hexametaphosphate, fructooligosaccharides, DL-Methionine, glucosamine hydrochloride, chondroitin sulphate. [for < 10 kg] Contains EC permitted antioxidant. [for >= 10 kg] Contains EC permitted antioxidant: tocopherols.

Analysis:
Crude Protein:30. 0%, Crude Oil:20. 0%, Crude Ash:7. 5%, Crude Fibre:2. 5%, Moisture:8. 0%, Calcium:1. 35%, Phosphorus P:1. 05%

Additives per kg:
Vitamin A:16000 IU, Vitamin D‡:900 IU, Vitamin E (à-tocopherol):200 mg, Copper as Copper II Sulphate:25 mg, ß-carotene:1 mg, L-Carnitine:50 mg. No colorants or preservatives added.
Customer reviews
Product reviews are filtered by language.
The following reviews are available in English.
I have an extremely energetic English pointer who has been on this food for the last two years having trialled a number of alternatives. Expensive but worth it.

I have 2 VERY agile Chihuahuas who burn off more than the eat in my opinion. I phoned the expert at Eukanuba and explained that I was worried that they looked underweight and was afraid that people may think that I wasn't feeding them. I was advised to try them on the work and endurance and it has worked a treat they are still slim, but not thin and very muscular - Brilliant !