Skip to content
Skip to navigation menu
Feliscratch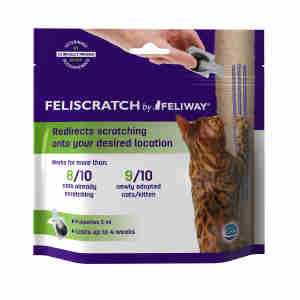 Rollover image to zoom
Product details
If your cat is prone to scratching furniture, Feliscratch can encourage them back to their post and minimise the damage in your home.
How does it work
Cats mark their territory by scratching. This can be damaging to your home and leave marks on your furniture and surfaces. When cats scratch, they leave pheromones from their claws behind. The scent makes them want to come back and scratch the same spot again. Feliscratch mimics this scent. When it's sprayed on their scratching post, it makes them more likely to choose to scratch that spot rather than your sofa.
Cats are territorial, so if your house is home to more than one pet, provide each of them with a separate post. Stress or anxiety can cause your cat to scratch more than usual. If you're concerned about their behaviour, try giving them a calming spot in your home or using Feliway – an anti-anxiety spray – to minimise stress.
Key benefits
mimics the pheromone that makes your cat want to scratch
spray on your cat's scratching post
helps to stop your cat scratching furniture
works on vertical or horizontal surfaces
When to use it
You might find that your cat will more than likely choose to scratch the sofa, even if you've bought them a scratching post. Using this handy spray helps your cat learn where they can and can't scratch, saving your furniture from being damaged. Always follow the instructions on the packaging and apply directly to their post, protecting surrounding surfaces.
If your cat carries on scratching furniture after two weeks, try spraying Feliscratch and Feliway together on their scratching post. When using the sprays, apply them in vertical lines to mimic your cat's scratches.
Additional Information
Scratching is a natural behaviour in cats, mainly to mark their territory and keep their nails trim. However indoor scratching can also be a sign of anxiety, which may be due to:
Changes in the home
Tension and conflicts in homes with more than one cat
NEW FELISCRATCH by FELIWAY® is a unique solution to redirect scratching to your desired location or to encourage a newly adopted cat(s) to use the scratching post.
The new liquid formula combines three key ingredients:
Blue colour, so lines that mimic the visual message (lacerations) of the scratches can be created
Catnip to attract your cat to the scratching post
A synthetic copy of the pheromone message that directs scratching on the surface where the product has been applied (FIS – feline interdigital semiochemical pheromone)
Customer reviews
Product reviews are filtered by language.
The following reviews are available in English.
This actually works.

I have used feliway plug ins before to chill out my cats who were winding each other up despite being sisters! I found the plug ins really made a difference. However I must admit I was sceptical as to whether the feliscratch would work. My cats scratched my old sofa so much it was in tatters so having bought a new one I was willing to try anything. I got new scratching posts and used this product and to my complete surprise it worked! After applying it to the posts my cats rolled around and started scratching immediately and not the sofa! I have applied it regularly to the posts since and they use them all the time and haven't touched my new sofas. I am amazed it works so well. Only thing I would say is get tall scratching posts as they like to have a good stretch as they scratch. I would 100% recommend this product.