Skip to content
Skip to navigation menu
Feliway Refill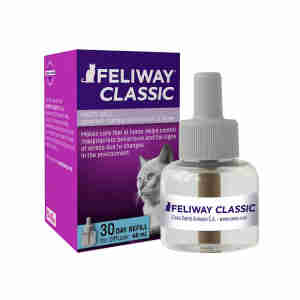 Rollover image to zoom
Product details
Feliway Refills work with the Feliway Diffuser to create a soothing atmosphere and prevent unwanted behaviour which often stems from stress.
Feliway can transform your pet's life. It slowly releases a synthetic copy of the feline facial pheromone that cats leave behind when they rub their face on people, furniture, doorways and other objects in the home. It is a sign they feel comfortable and safe in their home environment. Feliway refills can be purchased to replenish the diffuser every 4 weeks.
Key Benefits:
Creates a pleasant environment
Reduces Stress
Improves behaviour
Non-sedative and non-systemic so it can be used alongside other types of medications
Covers area 50-70m squared
Clinically proven to help reduce inappropriate behaviours caused by stress
Used by vets and pet owners worldwide for over 19 years.
Feliway is safe, easy to use and convenient
92% of cat owners are satisfied after using Feliway
Customer reviews
Product reviews are filtered by language.
The following reviews are available in English.
Reducing your cat's stress the easy way

I have used Feliway diffusers for years. With five cats , two of which are scaredy cats, they defuse a lot of stress and tension and all I have to do is plug them in.

Relaxed cat

Works very well keeping my friends cat nice and relaxed. Excellent service as always.

Calmer cats

I have used Felliway for a while as it is very useful with my two cats who often get stressed with changes around the home. Decorating and new furniture unnerve them so this helps calm them down. It is also useful when we go on holiday and the cats have a "sitter".

Feliway diffuser is brilliant it really works!

Since moving last summer into a small bungalow, my 3 cats are much more thrown together than before, especially during winter when they don't go out much. There was the beginning of constant quarrels especially between the two {neutered males) I tried Feliway when we moved because of the upset for them and it has calmed them all a lot,especially in the evenings I switch it on and ensure peace and quiet for everybody! I wouldn't be without it now.

Great product

My two cats were always having spats but this has stopped since using this product