Skip to content
Skip to navigation menu
You have setup the following Repeat Order: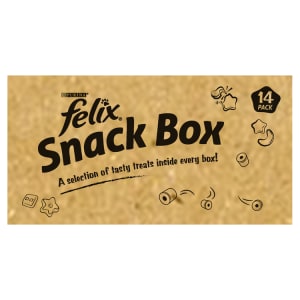 Felix Snack Box Adult Dry Cat Treat
Product details
FELIX® Goody Bag cat treats are a colourful, irresistible combination of meaty treats that are full of enticing aromas and fun shapes that we're sure your cat will love. FELIX® Crispies treats for cats are deliciously air-whipped for a light and crispy texture. Our tasty cat treats are the perfect way to surprise your feline friend with a combination of flavours. FELIX® Play Tubes are a tasty occasion to share a daily moment of bonding and fun together! Irresistibly playful thanks to their unique rolling shape, dual flavours, different sizes and tastiness of FELIX® treats that your cat knows and loves.
Key Benefits:
A selection of tasty cat treats inside every box
14 pack
Share more mischievous moments together with the Felix Snack Box
3 tasty varieties to choose from - FELIX Goody Bag, FELIX Crispies & FELIX Play Tubes
Ingredients
Goody Bag Original Mix:
Meat and Animal Derivatives (34%*)
Cereals
Oils and Fats
Vegetable Protein Extracts
Minerals
Various Sugars
Yeasts
Fish and Fish Derivatives
(* equivalent to 50% Rehydrated Meat and Animal Derivatives, with 10% Chicken, 2% Liver and 0.5% Turkey)
Goody Bag Seaside Mix:
Meat and Animal Derivatives
Cereals
Oils and Fats
Vegetable Protein Extracts
Fish and Fish Derivatives (2%*)
Minerals
Various Sugars
Yeasts
(* equivalent to 3.5% Rehydrated, Fish & Amp; Fish Derivatives with 0.5% Salmon, 0.5% Pollock and 0.5% Trout)
Goody Bag Mixed Grill:
Meat and Animal Derivatives (34%*)
Cereals
Oils and Fats
Vegetable Protein Extracts
Minerals
Various Sugars
Yeasts
Fish and Fish Derivatives (1%*)
(* equivalent to 50% Rehydrated Meat and Animal Derivatives, with 10% Chicken and 0.5% Beef)
(equivalent to 2% Rehydrated Fish and fish Derivatives, with 0.5% Salmon)
Goody Bag Picnix Mix:
Meat and Animal Derivatives (34%*)
Cereals
Oils and Fats
Vegetable Protein Extracts
Minerals
Various Sugars
Yeasts
Fish and Fish Derivatives
Milk and Milk Derivatives (0.3% Cheese Powder**)
(* equivalent to 50% Rehydrated Meat and Animal Derivatives, with 10% Chicken and 1% Turkey)
(**equivalent to 1% rehydrated cheese)
Goody Bag Dairy Delicious:
Meat and Animal Derivatives (35%*)
Cereals
Oils and Fats
Vegetable Protein Extracts
Minerals
Various Sugars
Yeast
Fish and Fish Derivatives
Milk and Milk Derivatives (0.2% Skimmed Milk Powder, 0.2% Yogurt Powder, 0.2% Cheddar Cheese Powder)**
(* equivalent to 50% Rehydrated Meat and Animal Derivatives)
(**equivalent to 0.6% Skimmed Milk, 0.6% Yogurt and 0.6% Cheddar Cheese)
Goody Bag Cheesy Mix:
Meat and Animal Derivatives (35 %)*
Cereals
Oils and Fats
Vegetable Protein Extracts
Milk and Milk Derivatives (0.5% Edamer Powder, 0.5% Gouda Powder, 0.4% Cheddar Powder)**
Minerals
Various Sugars
Yeast
Fish and Fish Derivatives (* equivalent to 50% Rehydrated Meat and Animal Derivatives)
(**equivalent to 1% Rehydrated Edamer, 1% Rehydrated Gouda, 1% Rehydrated Cheddar)
Crispies Salmon & Trout:
Cereals
Meat and Animal Derivatives
Oils and Fats
Vegetable Protein Extracts
Minerals
Various Sugars
Yeast
Fish and Fish Derivatives (1%)*
(* equivalent to 2% Rehydrated Fish and Fish Derivatives, with 1% Salmon and 1% Trout)
Crispies Beef & Chicken:
Cereals
Meat and Animal Derivatives (30%)*
Oils and Fats
Vegetable Protein Extracts
Minerals
Various Sugars
Yeast
(* equivalent to 45% Rehydrated Meat and Animal Derivatives, with 8% Beef and 10% Chicken)
Play Tubes Chicken & Liver:
Meat and Animal Derivatives (of which are 7% Chicken and 1,5% Liver)
Cereals
Oils and Fats
Vegetable Protein Extracts
Minerals
Various Sugars
Yeasts
Play Tubes Turkey & Ham:
Meat and Animal Derivatives
Cereals
Oils and Fats
Vegetable Protein Extracts
Minerals
Various Sugars
Yeasts