Skip to content
Skip to navigation menu
Fibrecycle Back 2 Nature Small Animal Bedding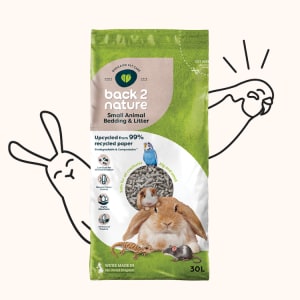 Product details
Help keep your pet's cage clean and cosy with this Fibrecycle Back 2 Nature small animal bedding.
What it's for
When it comes to cleaning out your pet's hutch, nasty smells and soggy patches can make for an unpleasant experience. Using a highly absorbent bedding like this one makes the job quicker, cleaner and a bit less smelly.
Your pet's cage should be cleaned out at least once a week and refreshed with clean bedding and hay. This will stop it becoming an unhygienic environment and also help to keep them comfortable and snug.
A great alternative to newspaper, this bedding is safe and kind to the environment. Small pets tend to nibble on newspaper, leading to stomach troubles. It's also a lot safer than softwood litters, which have been linked to liver disease.
Key benefits
recycled pellet bedding for small pets
environmentally friendly
additive- and chemical-free
good value 30-litre bag
reduced dust
non-clumping and highly absorbent for easy cleaning
How it works
When you choose this bedding, you know you're being kind to the environment. The pellets are made from 99% recycled paper and can be thrown away with your garden rubbish. It's dust-free, so less likely to irritate your pet's lungs than other beddings too.
Super absorbent, this bedding helps to keep your pet's hutch dryer for longer. It soaks up liquids and absorbs smells, making it perfect for use in indoor cages. This also means that cleaning out their hutch is a breeze (and you don't have to worry about nasty smells).
What's more, this bedding can be using as surface mulch in your garden to stop weeds from growing. You can also use it to trap water and protect potted and bedded plants.
Customer reviews
Product reviews are filtered by language.
The following reviews are available in English.
Excellent price

This can't be found cheaper anywhere else, especially when you add in delivery charges. I always order 3 bags so that delivery is free. Fantastic delivery, delivery man carries packaging inside for me. I use this in litter trays for my guinea pigs as they are on vetbed .

Excellent Product

Excellent product, clean and easy to use. Prompt delivery .

Using them all the time

Great product. Highly recommended.

clean and easy

Clean and easy to use. delivery prompt and on time. Highly recommended.

Excellent product and great service

Excellent product for indoor and outdoor cage use. Great indoors . No dust. No smell. Easy to sweep up, it doesn't cling to carpets etc like wood shavings do. Prompt delivery on time. No complaints at all !