Skip to content
Skip to navigation menu
Flexi Collection Tape Leash Medium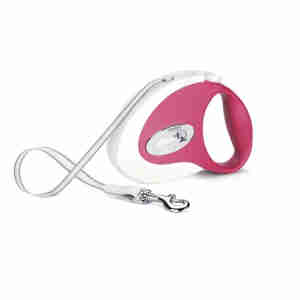 Use the Flexi Collection tape leash to teach your dog to walk to heel. It extends up to five metres, so they can roam safely too.
What it's for
This Flexi Collection tape leash is designed specifically for medium-sized dogs weighing up to 25 kilograms, such as a beagle, bulldog or poodle. It's an ideal solution when you want to give your dog freedom to explore but need to keep them close in case of hazards like nearby cattle or busy roads. You can use it teach your dog to walk to heel (just remember to keep plenty of treats in your pocket as a reward) and let them loose when there's more space to run.
Key benefits
lead for dogs weighing up to 25 kilograms (55 pounds)
cord extends up to five metres (16 feet) in length
small enough to keep in your pocket
soft, ergonomic handle is comfy to grip
tape lead with leather trim
sturdy chrome snap hook to attach to collar or harness
How it works
All you have to do is attach this leash to your dog's collar or harness using the sturdy chrome snap hook and press down on the handle button to set your desired lead length. There's a handy security lock to keep this in place. Release the button and pull the lead in when your dog spots a squirrel or other dogs come too close, or extend it to the full five metres for unrestricted running and playing. The ergonomic handle offers comfy grip, so you can stay on the trail for hours, and the whole leash is compact enough to pop in your pocket when walkies is over.