Skip to content
Skip to navigation menu
Flexi Collection Tape Leash Small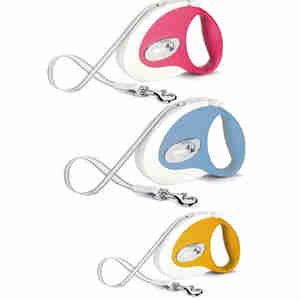 Take your furry friend for walkies wherever with this durable lead from Flexi Collection.
What it's for
Dogs love having the freedom to roam and sniff while out on walks. It keeps their daily exercise interesting, allowing them to really stretch their legs and engage all of their senses. Using a lead that can be extended and retracted means your dog can enjoy their walk, while still letting you bring them closer when needed, such as beside roads or in car parks. When used with a harness, you'll have complete control over your pet's pace and behaviour without tugging on their neck. Three metres long, this tape leash is ideal for smaller dogs up to 12 kilograms, such as corgis and beagles.
Key features
durable tape extends up to three metres
chrome clip is easy to attach to a harness or collar
lightweight handle with a soft grip
small enough to fit in your coat pocket
crafted from hard-wearing leather
suitable for smaller dogs up to 12 kilograms
How it works
This lead is ideal for keeping your pet safe and secure while out on walks, wherever you choose to venture. If you're in a field or on a footpath, you can let out the extendable tape and give your dog the freedom to sniff around and enjoy their countryside adventure. When you want more control over their movement, simply retract. The entire fabric leash will automatically roll up inside the soft grip handle, making it fuss (and trip!) free. This feature also makes the lead easy to store when you're back at home. Using a shorter lead means your dog will remain safe by your side while you're walking by roads or getting into the car.