Skip to content
Skip to navigation menu
You're setting up the following repeat order: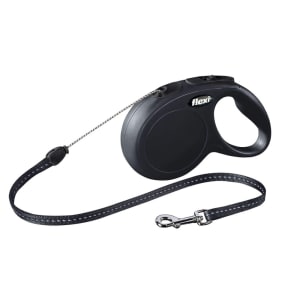 Flexi New Classic Small Cord
Product details
Let your dog roam safely with the Flexi New Classic small retractable lead.

How it works
This stylish, retractable lead fits comfortably in your hand. With the flick of your thumb, the cord extends up to five metres, giving your dog space to sniff around. Simply release the button to retract the lead quickly and smoothly to your length of choice. You can also slide the lock to hold it in place – a good idea when walking your pooch in town and around other curious dogs. You can add other Flexi accessories, such as the LED lighting system for early morning and night walks and the Multi Box to carry their favourite snacks.
Key benefits
stylish lead available in black, red and blue
comfortably hold, extend and retract lead with one hand
reliable, smooth retractable cord extends up to five metres
locks in securely with the flick of a switch
accessorise with Flexi add-ons
When to use it
Letting your dog off the lead can be dangerous with other animals, vehicles and new people around. With the Flexi New Classic small retractable lead, you'll give your dog freedom to roam while keeping them on-leash and under control. The lead smoothly winds in to keep your dog close-by and safe.
When you get to the park, simply release the button lock and the cord extends up to five metres – plenty of room for your dog to explore. As well as walking your dog on the lead, it's a good idea to teach them commands such as 'stay', 'heel' and 'leave' to keep them safe – especially in busy, urban environments.
Customer reviews
We're sorry but there are no reviews of this product in English.