Skip to content
Skip to navigation menu
Flexi Vario Lighting System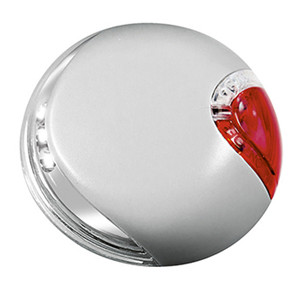 Product details
The Flexi lighting system is ideal if you tend to walk your pooch after dark or very early in the morning.
What it's for
Sometimes walking your furry friend after dark is unavoidable. Long work hours and long to-do lists mean that you might have to head out last thing at night. This handy little LED light means that you and your pet won't lose your way. The light also acts as a torch that you can use to take a closer look at any injury your pet might get during walkies. It has a Velcro tape that makes it easy to attach and detach to either side of your pet's lead, whichever suits you best.
Key benefits
extra bright for added visibility on late night or foggy day dog walks
velcro tape for easy attachment
can be clipped onto either side of the leash casing, suitable for left-handed users
splash-proof design
batteries included
front and back lights can be switched on and off individually
fits New Comfort and New Classic Vario leashes in all sizes
Customer reviews
We're sorry but there are no reviews of this product in English.