Skip to content
Skip to navigation menu
Greenies Dental Dog Chews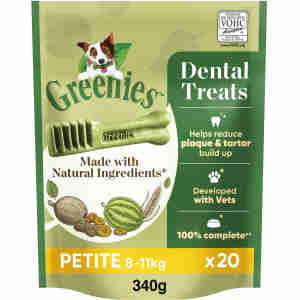 Rollover image to zoom
Product details
Greenies dental dog chews help to keep your pooch's teeth clean, strong and healthy.
How it works
These treats are made from all natural ingredients, so they taste great, and are healthy for your buddy too. The vitamins and minerals help to keep your pet's immune system in good condition, and the unique shape of the snack cleans their teeth.
Chewing also improves their dental health, as it stops tartar and plaque sticking to their teeth. If left to build up, this can give your pooch bad breath, and could lead to tooth loss if left untreated.
Greenies are available in a range of sizes to suit every breed, so you can help keep your four-legged friend's teeth is great shape, whether they're a poodle or Alsatian.

Key benefits
all-natural ingredients
vitamins and minerals boost your pet's health
clinically proven to freshen breath and keep teeth clean
easy to digest
special shape and texture helps to limit tartar and plaque build-up
tastes great.
What it's for
Treats are perfect for rewarding your four-legged friend, but these Greenies dental dog chews have a number of health benefits too. When training your pooch, you need to make sure that any positive behaviour is rewarded, as this helps to make sure they remember the right way to behave.
Because these treats have a special texture and shape, they're also great at encouraging your best friend to chew. This not only strengthens your pet's jaw – it helps to prevent tartar from building up on their teeth. The all-natural ingredients supply vitamins and minerals that can help them to stay on tip-top form.
If you need any advice about how to train your dog, or want to change their diet, make sure to speak to your vet.
Ingredients
Analytical constituents (%): Protein 30%, Fat content 5.3%, Inorganic matter 5.4%, Crude fibres 6.0%, Energy 307Kcal/100g. Composition: Cereals, Derivatives of vegetable origin, Vegetable protein extracts, Meat and animal derivatives, Fruit, Minerals, Seeds, Oils and fats, Yeasts.
Additives per KG: Nutritional Additives: Vitamin A (7150 IU/kg), Vitamin D3 (1780 IU/kg), Cupric Chelate of amino acids hydrate (80mg/kg), Ferrous Chelate of amino acids hydrate (261mg/kg), Manganese Chelate of amino acids hydrate (50mg/kg), Potassium Iodide (3.1mg/kg), Zinc Chelate of amino acids hydrate (1040mg/kg).
Warnings
Feed 1 Greenies dental treat per day. Ensure you choose the correct size for your dog:

TEENIE – for dogs between 2-7kg, PETITE – for dogs between 8-11kg, REGULAR – for dogs between 11-22kg and LARGE – for dogs between 23-45kg.

Greenies are not suitable for dogs less than 2kg in weight or under 6 months of age.

Always ensure that clean fresh drinking water is always available.
Customer reviews
We're sorry but there are no reviews of this product in English.