Skip to content
Skip to navigation menu
Harrisons Flip Top Seed Feeder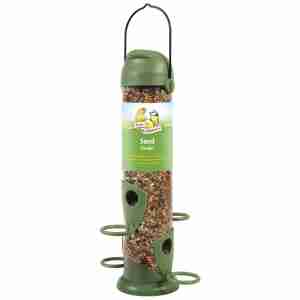 Product details
Attract wild birds to your garden with this Walter Harrison's flip top seed feeder.
How it works
Once birds know that there's a safe source of food in your garden, they'll visit time and time again. This feeder has a large plastic hoop, so you can hang it up high out of the way of predators like cats and dogs.
The simple design is made from durable materials, so can be left out in all weathers. There are several perches and feeding ports so more than one bird can enjoy food at a time. It's simple to keep this container clean, simply wipe down the weatherproof plastic. When you notice it needs a refill, all you have to do is flip the top and add more seeds.
Key benefits
high-quality plastic is tough and durable
multiple perches for birds
several feeding ports
large, wide loop for hanging
flip top design
great value
attracts a variety of birds
When to use it
There are lots of benefits to attracting birds to your garden. Not only is it enjoyable to watch them flock to your trees, you're also doing your bit to sustain local wildlife. In turn, these birds eat seeds from weeds before they take root and pick out pests from your flowerbeds.

Place a birdbath or birdhouse in your garden to attract more birds. They're always on the look out for shelter and fresh water – particularly when it gets cold – so doing this is an easy way to help sustain them. You can sit and watch all manner of birds visit this bird feeder: blue tits, finches and sparrows are the most common. Keep it filled up year-round to see what different types of wildlife you can spot.
Customer reviews
We're sorry but there are no reviews of this product in English.