Skip to content
Skip to navigation menu
Harrisons No Mess Wild Bird Energy Food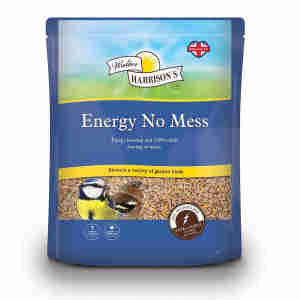 Rollover image to zoom
Product details
Attract wild birds into your garden with a sprinkling of Harrisons Energy No mess.
How it works
A variety of garden wild birds love sunflower hearts, so you will be happy to see them coming for a nice healthy meal. Made with high quality ingredients full of protein, which provides lots of energy, and also essential oils such as soya, this premium food mix is ideal for all year round feeding. It also contains nutritious suet pellets and mealworms, making it very tasty and appealing for birds.
Key benefits:
Premium food for wild birds
Contains sunflower seeds
Easy to dispense
Suitable for all wild birds
When to use it
Whenever you want to entice more wildlife into your garden, feeding the birds is a great start. This blend of selected seeds can be easily fed from a seed feeder, bird table or on the ground with a new tear and pour bag.
Ingredients
Ingredients: Sunflower hearts, cut maize, peanut granules, yellow millet, red millet, red dari, soya oil.